The Landmark tower (620 m tall tower), designed with extreme abundant concepts by architects with 3.4 million square meter scheme aiding the consortium of development called the Dream hub project financial investment Co. The tall tower will be invigorated by external double helices.The double helices covering the external features helps to strengthen the ornamental criss-crossed framework.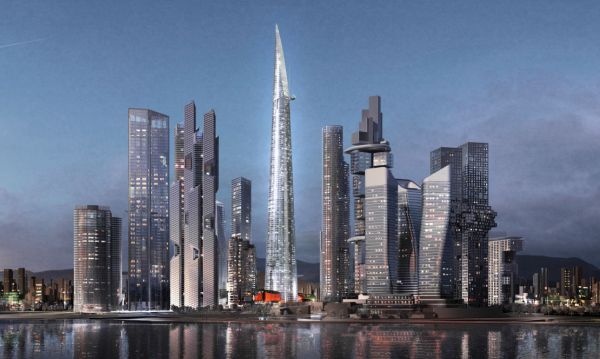 The total area allotted for 20 building Yongsan Business project is 3000 hectares. The construction is scheduled to be started soon with antedated development of the new project. The illumine beacon at the top of the tower starts with 76 meter diameter and increase to 22 meter sharp and slender splinter at the tip touching high in the clouds. When the construction of building getting completed it would be the 2nd tallest tower in the world after Burj Khalifia (Dubai).
Twin tubes in double pairs arising through the form winds around the axis in opposite direction to each other to preserve the building against strong winds and vibrations caused by seismic quivers.
The inauguration for the construction of Landmark tower was held on November 11, 2011 by the Yongsan International Business District. Dreamhub, the company for development, signed contracts for 25 percent of total design service and 75 percent for domestic architects. The master-plan released on January 25, 2012 was redesigned from the scratch in accordance with the Mayor of Wonsoon Park.Dreamhub requested Seoul city for raising the area of floor ratio to 912 percent, but upon refusal by the Seoul city, the area of floor ratio was fixed to 608 percent.
Out of 20 main towers, Arup is working in the 8th tower and provide advices pertaining the development of stature of the buildings. Acoustics, electric works, facade engineering are the major perspectives of Arup and provide advices for the same.