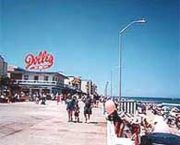 The Atlantic Ocean or Delaware Bay will soon be getting about 200 wind turbines, each taller than the Statue of Liberty! These wind turbines will be whirling within view of some of the region's most popular beaches. The Bluewater Wind of Hoboken will be building the $1 billion offshore wind farm in the U.S. waters for the first time.
But this plan has kicked up mixed reactions in Delaware. When some people, there, are enthusiastic about the alternative energy source, others are worried if the large turbines' sight would disrupt the Bethany Beach or Rehoboth Beach's tourism industry.
Jim Lanard, director of strategic planning for Bluewater said,
We will be offering offshore energy sources that will be pollution-free, emission-free and the price of fuel will be free, since it's the wind.

But, will the tourism industry compromise on it, to help save the environment?