South Korea is seeing major advances in its architectural designs that are beginning to lean more towards sustainability. This follows efforts by other countries that are trying to minimize their impact on the environment owing to increased pollution levels, depleting resources and overall concern for the ecology. The challenges are trying, however, as designers and architects need to incorporate these various concerns with the burgeoning population. AS+GG, a Chicago-based firm, has released its plans for Dancing Dragons in Seoul, two very tall mixed-use towers that will comprise an office, residential areas and retail elements.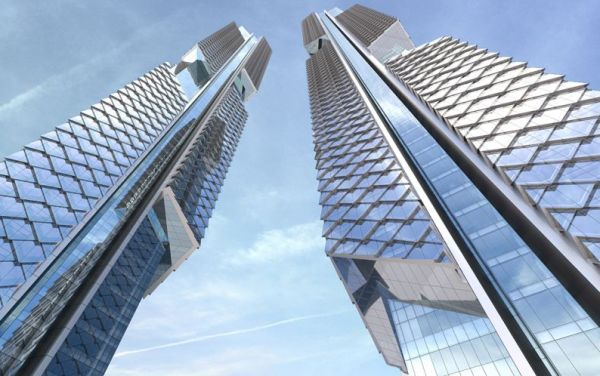 Dancing Dragons will be different than others in that it will wear a slender and sharply angled look. Diagonal massing cuts give it an appearance of floating in the air and are reminiscent of the eaves of Korean temples built in the traditional style. The skin of the towers is designed to look like scales, also reminiscent of Korean dragons in mythical tales. It is this feature that gave the project its name: Dancing Dragons. The scale-like design isn't just for aesthetic purposes, however, as they feature operable vents measuring 600mm to allow air circulation.
Tower 1 will stand 450 meters in height while Tower 2 will be 390 meters tall. The 88-level Tower 1 sports V-shaped massing cuts at the bottom and top while the second tower, with 77 levels, features cuts in a single diagonal line.
Triple glazed window units, designed by PositivEnergy Practice, help minimize heat loss while an overlapping exterior wall creates a shading effect. The towers will also feature natural ventilation to reduce dependence on air conditioners and cooling units. Dancing Dragons will also have solar panels on the roofs, daylight linked lighting controls, radiant heating, and heat recovery through the use of electric centrifugal chillers. The towers will sit on a site measuring 23,000 square meters and will have a sunken garden and a retail podium.
Via: Bustler