Creating a green home with oil silos
PinkCloud has designed an innovative and eco friendly Oil Silo Home, which reuses existing empty oil silos, redefining their purpose altogether. These oil silos can actually be transformed into an affordable housing option for many families around the world, and particularly so in the times when oil becomes a scarce commodity. Not only would it be easy to assemble and disassemble an Oil Silo Home, it will indeed be durable and strong for supporting the house.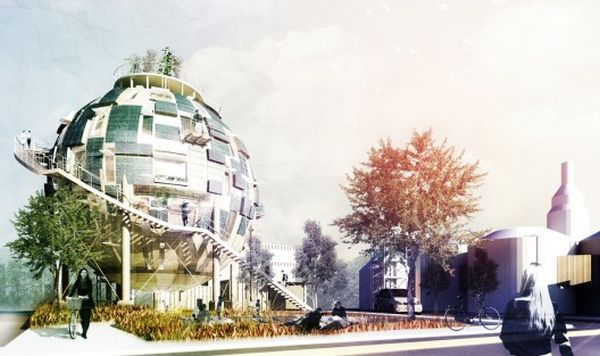 An oil silo is basically an LPG Vessel that contains and stores compressed liquefied petroleum gas. These structures are 100 percent water proof and are made as per industrial standards. There are around 660 oil refineries around the world, which are making use of around 49,000 oil silos. Over the course of time, oil will become a scarce resource and these oil silos will eventually be abandoned as they will no longer be needed for the purpose of storing oil. Not only will the Oil Silo Home serve the purpose of recycling, but being a carbon positive design, they can contribute energy back to the electric grid.
The spherical shape of oil silos is optimum in terms of orientation for absorbing maximum sunlight throughout the year. This feature can be used to harvest solar energy via photovoltaic panels. These panels and solar heaters have been installed along the periphery of the Silo. Apart from producing its own energy, the oil silo's ball shape is great for effective heat distribution inside as well as great circular air ventilation.
For reconstruction, the contaminated oil silo's first have to undergo detoxification with the help of bioremediation. After this, they are retrofitted on site and large scale components are pre fabricated off site. Finally modular assembly is used for final construction, which proves relatively cost effective and time effective.
The Oil Silo Home can be divided into three separate areas that could be accessed via an exterior walkway and a central pneumatic elevator. One full floor plate can be occupied by a large family whereas the smaller families can occupy homes on the other two levels. All the units have large openings with balconies for ventilation.
The Silo Home Community would be interconnected by means of a shared resource system. In this, all the resources would be pooled in by the members and would be equally shared in order to maintain optimum levels of clean air, water and energy.
Via: ArchDaily