Coming next: Solar-powered wind turbines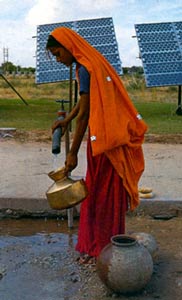 With soaring fuel prices and increasing concerns of global warming across the world, who would not like to hear of a solution to this – i.e. development of new energy technologies, which is not only easy installing, but environmental friendly and "perhaps most importantly" inexpensive in its production?
To help this desire come true, giving people a break form the worries – both financial and environmental — a Florida State University researcher, Anjane'yulu' Krothapalli is developing an innovative technology that is capable of converting solar radiation to heat energy. Furthermore, this heat is used to produce steam to run wind turbines, which in turn will run a small electric generator.
The wind turbine is not only highly efficient, but also a low-cost power generator. Once successful this technology can widely be used in developing countries to generate power, as about 2 billion people across the world, which is nearly one-third of the human population, have no access to electricity, mainly due to poverty and other financial crunches of organizations.