It's simply cool in its innovation and contribution towards the environment. Just spotted this beautiful coffee table in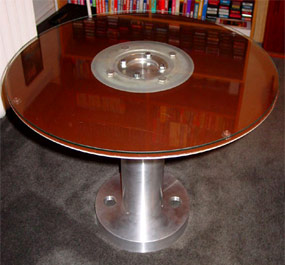 Inhabitat and could not let go without mentioning about it. Though Grand Idea Studio's Hard Drive Coffee Table has come up with this eco-friendly innovation two months back, it will arrest anyone's eyes who would come across it.
Meant to be headed for the landfill, the design recycles an original hard drive from an early storage device into a circular, industrial-looking coffee table. Covered with standard 1/4″ table glass, the center hub of the hard drive platter and the custom-created pedestal are both made of solid aluminum. This reuse of old technology is really creative and inspiring.
Via: Inhabitat