Denims are one of the most favorite wears through all age groups, across the world. A conventional denim production involves more than fifteen dyeing vats and a wide range of chemicals. This entire process takes about 2500 gallons of water per pair along with large amounts of energy, considering that it has billion fans across the globe.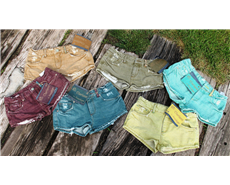 A Swiss chemical company – Clariant has created a process that can help reduce ninety two percent of water along with close to about eighty seven percent of reduced cotton waste. This will also help in saving about thirty percent of energy. The process unlike the traditional dyeing mechanism involves only one vat dyeing process. With factors like sustainability being the key focus, it virtually produces no waste water as it uses the so called 'advanced denim process' – the denim Ox water consumption significantly reduces the water ingestion. The sizing or pad Ox process does not involve any water usage for rinsing. Since the production of denim involves large quantities of water, issues like cleansing and disposing of the waste water poses a great challenge and is not appreciated by all the ecologists.

Clariant is also in the process of launching a denim book to help its users understand the complete process of manufacturing denim via this advanced denim process. They are also trying to partner with various leading manufacturers to help them benefit from this less power and low power input process, thereby helping them reduce the industry's considerable amount of water and carbon footprint. This Eco-friendly advanced process uses Eco-conscious concentrated single sugar based reducing agent along with liquid sulfur dyes. This is an efficient and easy to control process and does not require any major changes in the existing production lines. This process also allows enhanced and effective reproducibility of colors and tones of the fabric.
Via: gizmag