City Grass seating area combines green grass with an ergonomic layout
In the modernistic times, when we think about a city, the massive scope of structures and roads subjugated by the chaos of traffic congestion naturally comes to our mind. And, in between such constraints of the contemporary system, we sometimes luckily come across seating areas, specified for the so called pedestrians. However, during most of the situations, the design in themselves are relegated to just functionality, thus existing without the essence of either aesthetics or sustainability. But, all of these can propitiously change with the fascinatingly adroit conception of 'City Grass'.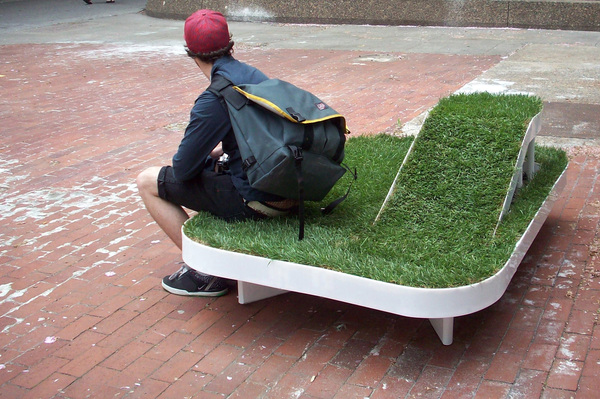 Conceived ingeniously by designer Chris Mufalli, the product according to the him has been contrived explicitly for city dwellers who love to take a stroll. And, improving upon this mild 'exercising' factor, the City Grass seating area will be used exclusively for relaxation.
However, beyond its mere functionality, it is the collective nature of user comfort and psychological reinforcement exuded by the conception that really tickles our fancy. Visually looking like a patch of grass strewn across an ergonomically crafted seat, the designer has admittedly envisaged the set up as a 'mini park'.
This passive architectural system can also pose as one of those green points within the cramped and polluted scope of the urban areas. In fact, the confluence of conscientious functionality and interesting aesthetics makes the City Grass a winner in our eco conscious fueled conclusion.
Via: ChrisMufalli