Christmas Gift List: Tea-Light Candle Holders From Old Bicycle Parts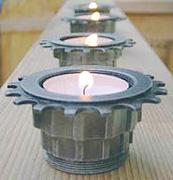 Beauty from discarded bicycle parts! Yes, and that's not only beauty, but a marriage of beauty and function. The ugly bicycle cogs and freewheel cores are amazingly transformed into tea light holders. It's unique. The tea light holders cast a dancing cog shadow that will add a pleasing atmospheric dimension to your home or office setting.
It's really creative on the part of the artists, who gave birth to these original handmade designs. It's a real artistic dedication to creating new uses for discarded materials. Literally thousands of pounds of used bicycle, automotive and building parts have been brought back into useful circulation through their ongoing efforts, since 1994.
Not only this, their regular contributions to various programs with special emphasis on kids and disabled adults also boost the local communities with their efforts to be environmentally responsible. You can purchase a recycled bicycle tea light holder for $9.95.
Via: Abundant Earth