Eco friendly Chevrolet Volt: A sexy and sophisticated car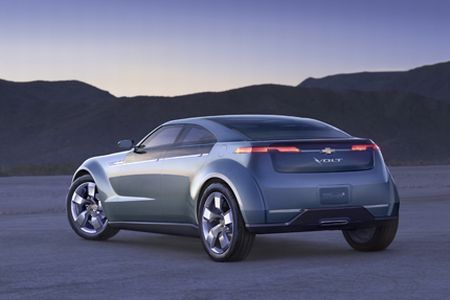 Tired of going to the gas station for refueling your car? Don't worry, with a Chevrolet Volt, you may soon never have to visit one! Chevrolet Volt is an electric concept car created by General Motors. It was officially unveiled at the North American International Auto Show (NAIAS) on January 7, 2007 in Detroit, Michigan. It is expected to cost approximately $30K. This 4-door lift back concept sedan is powered by the E-flex System (GM's next-generation electric propulsion system) and has a very athletic and chic design. What is the E-Flex drive system? Well, it is an effort to standardize the numerous components of possible future electrically-propelled vehicles. The Volt is designed to run completely on electricity from on-board batteries for up to 40 miles (64 km). This is ideal car for most Americans, because on an average the daily commute is roughly about 25 miles (40km). Due to the presence of a small internal combustion engine hooked to a generator to recharge the batteries, the Volt's range is potentially increased to 640 miles (1030 km) on the highway. Robert A. Lutz, GM Vice Chairman, said,

the Chevrolet Volt is a new type of electric vehicle. It addresses the range problem and has room for passengers and their stuff. You can climb a hill or turn on the air conditioning and not worry about it.
General Motors hopes to have the Volt in the market by 2010. Why not earlier? A technological breakthrough required to make this concept a reality is a large lithium-ion battery. Clearly, the success of the Volt will be dependent on the battery technology. To help spur battery research, Compact Power and Continental Automotive Systems have been selected by GM to provide advanced lithium-ion batteries. I hope the Chevrolet Volt becomes a reality sooner than expected, because with more than 800 million cars and trucks in the world, we will definitely need more efficient, eco-friendly vehicles to meet our transportation needs. Source