Chairs made from recycled barrels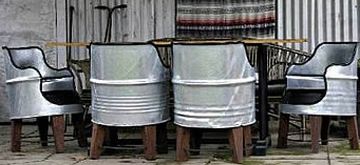 Chairs from recycled materials are no more a new concept, but this idea is really unique – recycling barrels! Apart from being a designer and comfortable, this furniture is also environmentally responsible.
They are made from 44-gallon steel drums and reclaimed lumber. It has used 95% reclaimed materials. Purchase this eco-friendly, trendy looking furniture from Aussie Outdoor Furniture for $300 Australian.