Ceramic Floor Tiles: A green way to design your home's floor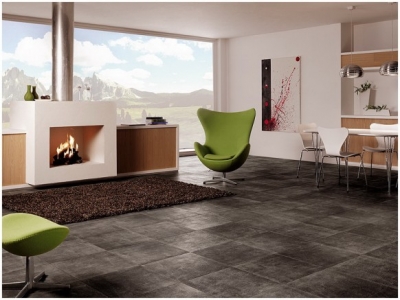 Ceramic tiles have been around for ages. Of late their usage in interiors has increased, thanks to the growing consciousness about environment friendly products. If you are one of those who want to do their bit for the environment, choosing ceramic tiles for the floor is a really good idea. They are easy to clean, are cheaper as compared to other costly alternatives and are very much in trend. Besides this, they are available in varied motifs, colors and patterns, thus enabling you to give a whole new definition to stylish interiors. Most of the ceramic tiles do not require long distance transportation, thus enabling you save extra transportation costs. If you have zeroed in on ceramic tiles, it is advisable to tread cautiously, so that you can transform your home to a beautiful haven.
1. Select the right tiles for your place:
Ceramic tiles come in a variety of patterns and materials. Porcelain tiles are also a type of ceramic tiles. These are durable and do not get damaged easily. Do not select just any tile. You should know about your requirements. Try to understand minor yet important points related to ceramic flooring, this would help you in making the right selection. In case you are selecting ceramic flooring for outdoors you should know that porcelain tiles are considered a little better for the outdoors than the normal ceramic tiles that are made by recycled material.
2. Work on the design:
This is one important point. Ceramic floor tiles offer a wide range of variety from rusty to metallic, vintage and modern look. Select a pattern that gels well with the theme of your interiors. Jot down your priorities as to what kind of look you are looking forward to for your floor. You must be clear in the beginning itself whether you would want a mosaic pattern on the floor or larger slabs. Once you have finalized this, work out on the requirement of different sized tiles for different areas. Second thing would be to finalize the look of the flooring. You may keep your floor single toned, or you may use accents to glamorize it. Try to pick colors that go well with the interior theme, this will complete the look of your house. Do your homework to know what colors are in trend. Mix and match is very much in trend, so you don't need to pick just one pattern for your entire house. You can pick a number of colors for different areas.
3. Pick the pattern and color wisely:
Just one tile design may not work. In case you are planning different looks for different areas of your home, select colors and patterns according to that. For example: Large sized ceramic floor tiles in dark or metallic shades are more suitable for the kitchen area, where tiles may get greasy and dirty sooner. Similarly, light prints, sober patterns suit bathrooms; while you may go with mosaic patters for the outdoors, lobby or balcony area.
4. Place it right:
Though ceramic floor tiles are durable, their durability gets affected by the way they are placed on the floor. If the tiles are laid on a rugged, unclean surface, the may get cracked sooner. Ideally they should be laid on a concrete or slab sub floor. Make sure the surface is clean so that the tiles may stick onto it properly. In case you are placing the tiles on an already existing flooring, it's better to drop that idea. Any sort of unevenness or damage on the sub floor may subsequently harm the ceramic flooring because it doesn't let the tiles fix properly.
5. Give ample time to grout to dry up:
Whichever place you are placing the tiles into, it is necessary that the grout dries properly. It takes at least three days. On a newly tiled area, keep the traffic as low as possible for at least one week. Afterwards you may start cleaning the grout and polishing the tiles for a decent look. For mosaic patterns this is even more important. A lot of grout is applied to keep the small pieces of ceramic tiles intact, in case someone walks by accidentally, the entire look may be ruined. So you need to be extra cautious about letting the grout dry.
Ceramic floor tiles are stylish in themselves, a bonus would be to take care of the application procedure and to choose the designs that are in trend. This way you will have a flooring that is trendy and eco friendly.