Cat shelter: A treat for cats at the pod hotel
In order to provide shelter to homeless cats in New York City, an event called Giving Shelter is organized. Several architectural firms participate in this event and help in designing, developing and donating a variety of shelters that especially support the survival of cats in the wintery freezing cold. While taking the same initiative, Lucio Santos has come out with a feral cat shelter. This cat shelter acts as a pod hotel where cats will get a special treat in winters while they may rest in any of the three varied-length pods that are fully insulated. Its two non-insulated pods offer the same comfort in summers. These pods have interstitial space, along with a plywood frame that cats may find as a small jungle gym to do various activities in.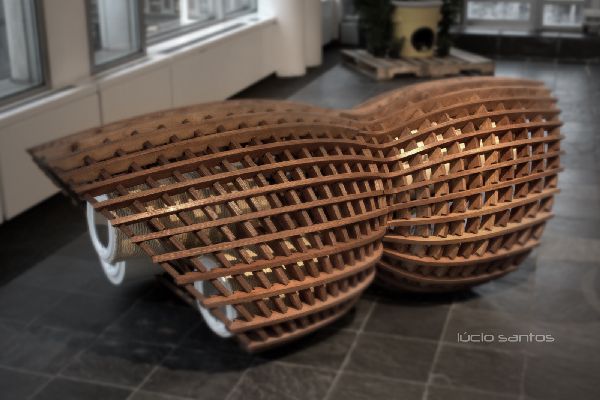 For the two-way convenient entry and exit, each pod has hinged doors at both ends. Also, these pods are easily removable from the frame when maintenance work is required. Per seasonal requirements or when more cat colonies need to be accommodated, these pods can be retrofitted. For insulated pod fabrication, a 10-inch PVC tube is placed within a 12-inch PVC tube, while their void is filled with insulation. The smaller tube is wrapped with recycled plastic with both its ends having a filling of expanding foam. Tube ends are capped using a white acrylic ring and cat doors are placed on top. All seams and joints have been given a silicone sealant filling to make the pods water-resistant.
In case of non-insulated pods, the smaller tube is wrapped with sisal rope and both ends are capped using cat doors. Cats might use the sisal rope as a scratch surface and to sharpen their claws. The rope's textured surface allows them climbing and lounging on. To seal the plywood and paint the frame, a polyurethane-based wood stain is used that has also given the cat shelter a rich and beautiful walnut color shade. Using flat-head screws and brad nails, horizontal struts and vertical ribs have been fastened together. Thus, the overall structure of this shelter is designed to be extremely friendly to cats and would help them survive the best way in the chilly winter season.
Via: lúcio santos