Bus powered by 100% recycled cooking oil!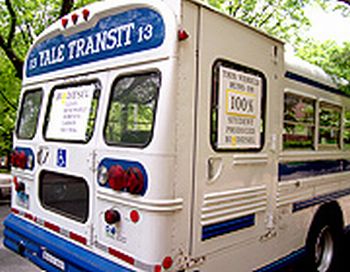 With the soaring oil prices across the world and increasing concerns over global warming based on green house gas emissions, the Yale University does not seem to stay behind in providing a helping hand to America on these lines of concerns.
The University has been running an environment-friendly shuttle bus for the past month or so. What has deserved both the bus and the University a headline is that the bus is powered 100% by cooking oil! Yes, the edible oil, and that too, which is recycled from university dining halls!
Associate Vice President for Administration Janet Lindner said,

The experiment with 100 percent biodiesel complements Yale's use of alternative fuels in the rest of its shuttle fleet… The University has converted all of its shuttle buses to biodiesel, in a blend with ultra-low sulfur diesel, as part of its commitment to a greener campus and cleaner air. We have been making use of alternative fuel vehicles, such as hybrids, within our fleet and this month we began using alternative fuel in all Yale shuttle buses. These efforts will help promote a healthier environment for the New Haven community.
Via: Business Innovation Insider