Burgeo to get 30 wind turbines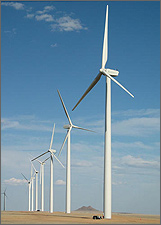 Northern Burgeo (Newfoundland) may soon have 30 wind turbines, leading to employing some people in the region. I have used the word 'may'as the Top Pond Wind Farm Limited Partnership is presently going through the assessment process for provincial environment. It is now in the project's first phase.
Once through, for a total output of 26 MW, the turbines will be producing two MW. Each of these turbines will be 58 to 70 metres tall. And, the diameter of the blade will be 71 metres.
In the first phase, a wind-power generating farm will be constructed and operated. And, it will consist of about 13 turbines. The site would be near Top Pond, which is approximately 25 kilometres north of Burgeo.
The 13 turbines will be able to generate energy, enough for about 8,000 to 10,000 households. The Newfoundland and Labrador Hydro will buy this generated power and transmit it to the power grid, through the existing transmission line near Grandy's Brook Terminal Station.
Via: Gulf News