BOOM: A green community that intends to make an impact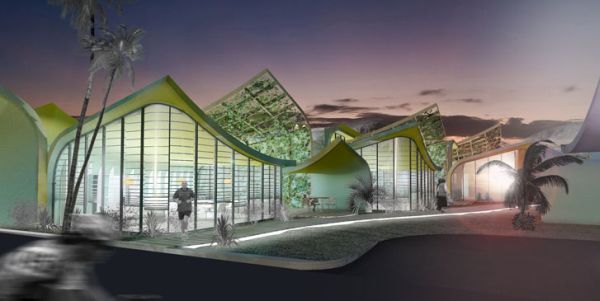 It is really interesting and fascinating to see a retirement community, designed basically for 40+ age group, look so futuristic. This retirement community project near Palm Springs is a $250 million project that has so far come out with some great, colorful looking renditions. Now is the time to back these attractive images with some real on-field work.
The retirement community plan conjured by Matthias Hollwich and nine other designers seems to include plenty of greenery. The central structures, the homes, outdoor spaces and every possible inch have been sprayed with a lavish dose of flora. With all that vegetation around, you would naturally expect this 'maverick community design' to be eco-friendly and clean.
Not only does the design incorporate all that foliage, but it's a pedestrian community that eliminates the possibility of carbon emissions in the vicinity. That is further aimed at adding to the tranquil and healthy lifestyle that designers have in mind for those living at BOOM. The central pool, large open spaces, community gathering halls and various outdoor activities are all designed to make it perfect for those who want to put their feet up and relax.
Originally designed as a LGBT senior citizens community, the plan has been changed to allow everyone interested and above 40 in. Maybe it's just to add further diversity to the community, but we like the idea of opening it up to everyone. Now if we can see BOOM jump out of the CGI renditions and spring to life sooner than later.
Via: Sadarvuga