If you thought that planes could only be tinted in those old dull shades of primary colours, you might well, be severely wrong. The Boneyard Project is hunch bent upon proving that colours can make every object, starting from a small canvas to a huge aerial carrier, resume life; and stand a class apart. The project is all about making use of airbuses that are no more in commercial use and turning them into awesome pieces of artwork.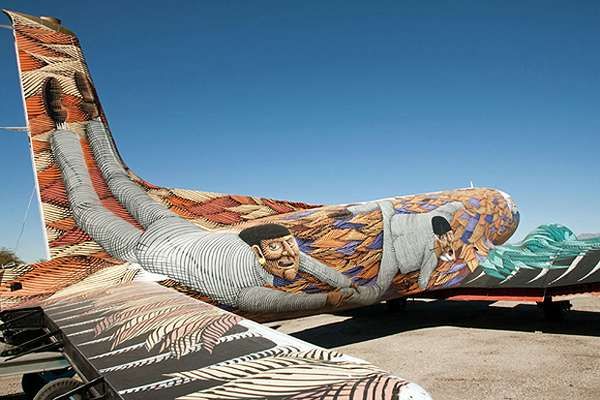 An image with such fine detailing, it would make you hold your breath back for a moment. The artist here has tried to reflect the plea of two men in grey suits, trying to hold on, while something seems to be pulling them away. Another such creation shows a skull in black and white, the kind you would find raging a dangerous presence on macho bikes and sporty race cars.
It is a marvel, as to how an entire vehicle, as massive as an airplane, could be painted with such innovative detailing. With different themes trying to impart distinctiveness to the vehicles, it would be sheer pleasure to find such metal monsters hover around in the clear blue sky. After all, a splash of colors, scattered around in frenzy is enough to wipe away all the dullness that could dwell in anyone's life.
Source: trendhunter