BNKR Arquitectura proposes habitable Acapulco Bay Bridge for Mexico City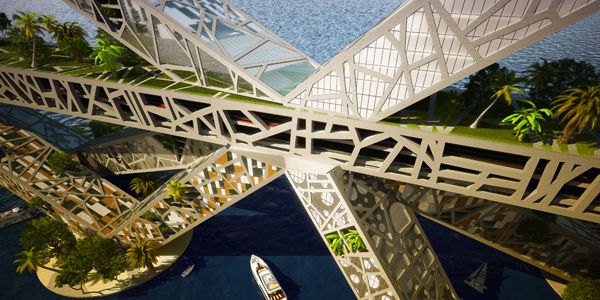 Mexico City-based BKNR Arquitectura has initiated promoting urbanism on the broadest scale with their upcoming Acapulco Bridge project in Mexico City. The colossal habitable bridge uniting the two ends of bay of Acapulco is marked with BKNR's unconventional approach to harmonize public utility with commercial urbanism.
The local municipal government was long afflicted to find an alternative route to facilitate traffic looping around the city's coastal avenue and win ways for linear parking lots. The answer was simply a three km bridge across the bay, but the municipal government of Acapulco was unable to finance such a mammoth project. The project leader Toma Krel of BKNR Arquitectura along with his team of Adrian Aguilar, Diego Jasso and Guillermo Bastian envisioned this master plan of a habitable bridge with multi-use facility to link the bay across and thus bringing in private equity to enable the construction. This way the developers get to sell prime seafront real estate to finance a fresh means of access across the bay and 700,000 sq meters worth of space for residences, roadways and public parks without any strain on municipal resources.
This unique superstructure split into two parts has a two-tier square channel spanning across the bay and its triangular support structure above and below for habitable spaces. The bridge stands on islanded pedestal that could operate as public and private pier for watercraft and citizens get to appreciate the enhanced waterfront. The bridge cases roadway and parkways covered by the walkways, bike paths and green breathing space to provide the much needed traffic expander for the route.
Via: Evolo