BMW goes green with Vision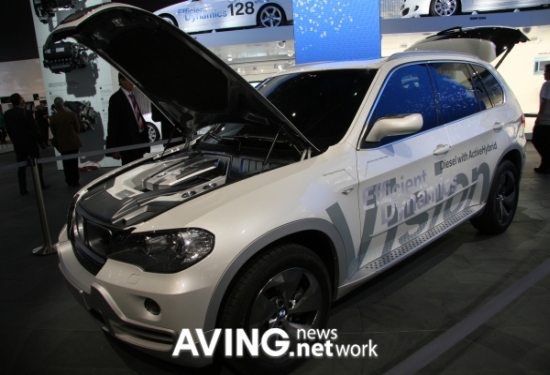 Joining the already burgeoning club of car manufacturers who are doing their bit to save our already fragile earth, the German car giant, BMW has just taken the wraps of it's latest Vision EfficientDynamics at this year's Geneva Motor Show. The Vision, which at first glance looks like a standard offroading X5 SUV, has a lot going for it under the hood, where all the action is.
Well, for starters, it has two variable turbo's and a common rail direct injection and a common rail direct injection that pumps out 295 lb's of torque and 204 horses. The torque is more significant in the SUV territory and hence BMW has focussed on improving the torque. But what makes the Beemer a Mild hybrid as BMW prefers to call the new X5. Well, the X5 has roof mounted solar panels and regenerative braking.
These two sources of energy take the load of the engine, leaving it more efficient and powerful to just concentrate on propelling the car. The AC, compressor, power steering and the engine coolant pump use the stored energy from this 120 volt system derived from solar and regenerative braking. This translates into a class leading 8.9 seconds zero to sixty time and a segment topping mileage of 6.5 litres per 100km and emits just 172 grams of CO2 per km. Now, with the new BMW X5, you can go faster and at the same time be more frugal while doing your bit for the environment.
Source: Aving