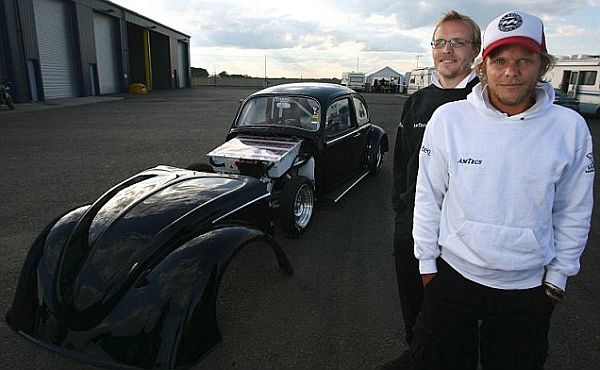 Black Current, an all-electric custom-made Volkswagen Beetle has created a record by winning the quarter mile event within ten seconds, thereby creating a new world record. Well, it would be impossible for you to see the speedometer hand touching the 60 mph mark as it all happens in just 1.6 seconds. This zero-emission custom vehicle is powered by as many as 60 12-volt motorcycle batteries.
Designed and built by two brothers, Sam and Olly Young, the Black Current looks exactly like a Beetle itself. This car has also brought the Zero Emissions category award at the Alternative Energy Racing tournament to Sam and Olly Young. While the 30-year-old Sam is a driver, the designer is his elder brother Olly Young, 34. They are sponsored by a local pub in Hungerford of Berkshire. Notably, these guys have been preparing electric cars for the past eight years at their workshop in Hungerford and after a number of attempts, they have emerged successful.
Briefing the media, Olly said that the experience was great when he noted that the speed touched 60mph in just 1.6 seconds. The speed record is not the first victory for this Beetle turned Black Current. Earlier, the brothers broke a world record by doing a quarter sprint in 9.51 seconds with a top speed of 135 miles per hour.
Source: Dailymail