Bio Climate indoor swimming pool takes inspiration from natural forms
This pioneering and eco friendly project has been conceptualized by Eduardo Fernandez from Spain. The basic plan entails a public recreation center, which will have an indoor swimming pool and a lush tropical garden.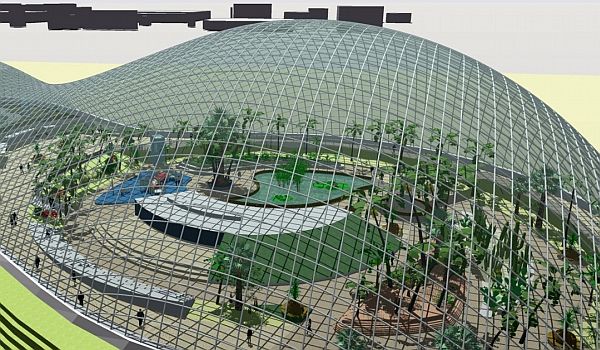 Careful contemplation and thorough planning went into designing the project. After much deliberation, it was decided that a peanut shaped structure would best accommodate the garden as well as the pool. One ovular orb of the peanut will contain the garden and the other one will have the pool, while the space in between the two will serve as the exchanger zone. Many mathematical models were applied before arriving at the best possible orientation for the public space.
The entire structure will look opulent and futuristic as it will be made of steel and glass. There will be a glass casing right above. As the top will not be left open, a relaxed micro climate can be created inside the structure. The translucent top covering is a great idea as it will allow sun light to pass through. The structure will also feature a nature classroom erected in midst of the open garden area, a conference room and an exhibition center.
Essentially a bio climatic architecture plan, this project will make use of clean and green power as far as possible, thus reducing dependence on conventional sources of energy. However, the green power sources applied will not compromise on human comfort. The swimming pool will be heated using solar panels and no chemical water treatments will be employed here. The garden will be irrigated with used water and the structure will also have cross ventilation. The sprawling activity zone, which will be open to public, seeks to encourage open leisure spaces with natural scenery.
Via: Tech Briefs