Beton Hela Waterfront: Eco friendly, spontaneous cultural hub for Belgrade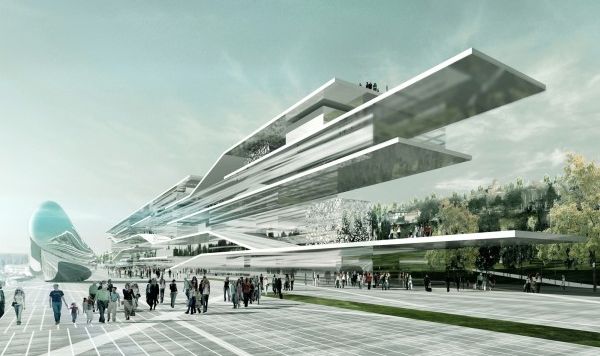 Located in the city of Belgrade, The Beton Hela Waterfront is the latest eco friendly architectural facade in the Serbian capital city. Built by Erik Giudice Architects, this building lies along the banks of the river Sava, and is stated to be the next major center for cultural and commercial activity in the city.
Acting like a contrast between the pristine Sava River on one side and the bustling commercial city of Belgrade on the other, this building acts as an important passage between the river and the commercial hub. This building has been endowed with many a features that are eco-friendly, and act as the energy regulators. Temperature of the building is regulated through the unique facade structure that absorbs heat of the day to keep the evenings warmer, and other way around during the latter half of the day. Hence, to keep the footprint to a bare minimum, the usage of carbon emitting devices has been limited wherever possible. Since the building is largely transparent, the occupants are provided with a scenic view of the river, and the city's skyline, adding to its ambiance.
Built as a horizontal structure amongst the otherwise 'vertical' surroundings, the Beton Hela Waterfront gives ample wide space for several commercial avenues such as restaurants, shops, etc. along with its open areas within its surroundings, paving the way for cultural activities and open air events such as concerts. Also, the movable partition walls allow for greater flexibilities of usage of the space within the building. These walls can be chosen as per preference of being either opaque or even semi-transparent. Keeping mind the need for natural ventilation within the building, and also its eco friendly features, this facade provides a series of glass windows which can be opened or closed as per convenience and need, which regulates the flow of air.
The Beton Hela Waterfront, on the whole does stand out amongst the rest, for its structural design and planning. Abstract though it may seem when compared to the surrounding structures, this architectural brilliance will be a very important passage between the travelers from the Sava River, and those from within the city. The ecological design of this structure could certainly be a model to follow, as well as provide for a viable and serene tourist spot for tourists of the city.
Via: Evolo