Best recycled circuit board creations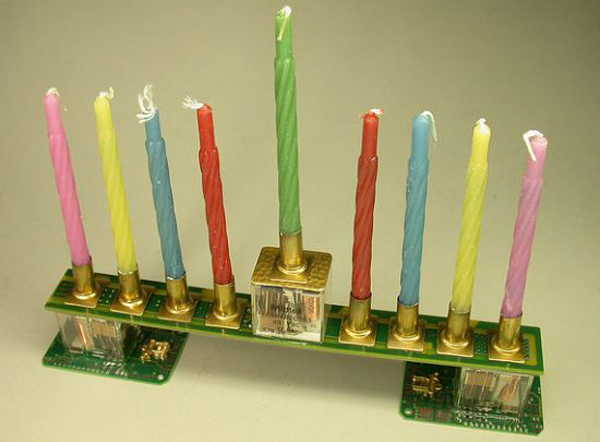 Recycling PCBs or printed circuit boards is an excellent pastime as well as a green effort. Many abandoned electronic products may be laying around in your home and office. If you are a bit crazy about recycling, you can just extract circuit boards out of those discarded gadgets and reuse them for many purposes by applying a few modifications. Many artists have reused circuit boards to make a variety of artworks. Here are ten interesting items.
Recycled circuit board Hannukah menorah geekery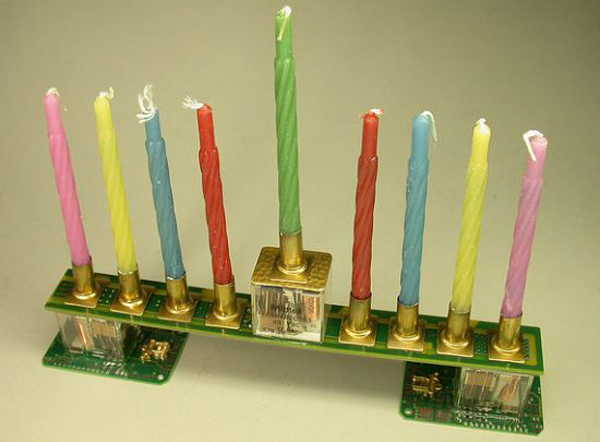 It is a superb candelabrum made from recycled materials such as circuit boards and brass bullet casings. Artist Debby Arem has designed the candelabrum for the celebration of the Jewish holiday, Hanukkah. The nine branched candelabrum given life to many abandoned materials. In fact, circuit boards of your discarded computers or TVs can form a beautiful platform for candles.
Bowls made from recycled PCBs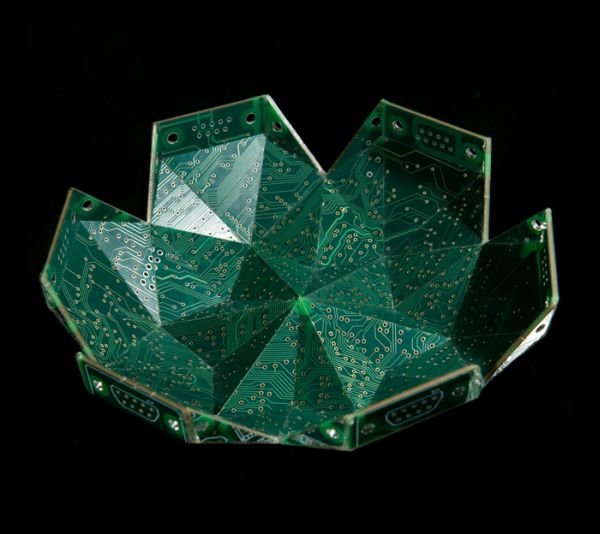 Abandoned PCBs or printed circuit boards are ideal stuffs to create bowls for multiple applications like ash tray, flower tray or candy tray. Designer Svetlana Kozhenova has created a number of differently sized bowls from PCBs, under the brand name PCBowl. Kozhenova's bowls come in different dimensions like 17 x 4.5cm, 15 x 3.5cm and 17 x 3cm for multiple purposes.
Recycled Circuit Board Sun Catcher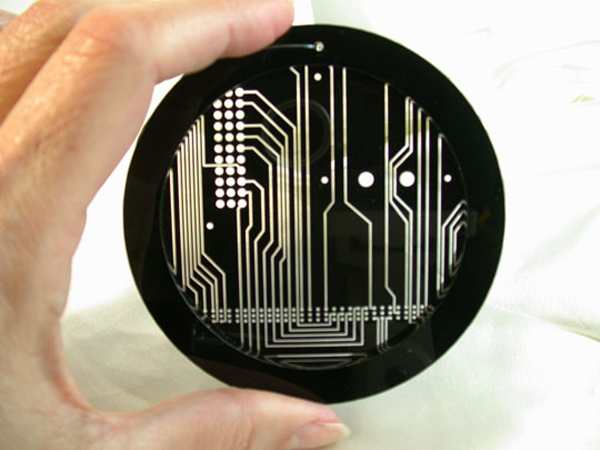 Etsy seller Debby Arem Designs has created this cute sun catcher out of a recycled electronic lithography film. This is a wonderful sun catcher to hang in your windows. The product has two layers with the film packed in between. The sun catcher is lightweight and has an awesome pattern. The Circuit Board Sun Catcher is 6 inch in length.
Giant circuit board head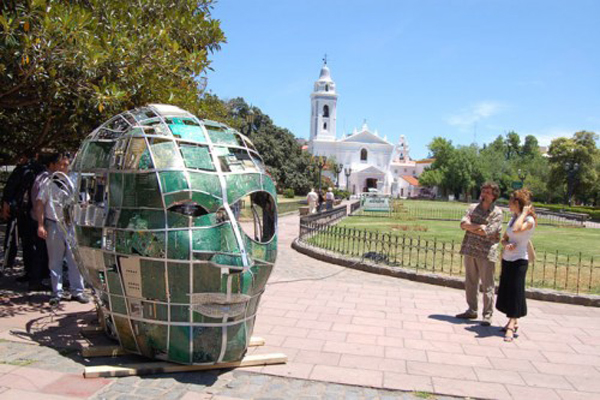 Sistema Alternator is an enormous sculpture made out of aluminum frame and recycled circuit boards. Colectivo GIB, a team of Argentine artists has designed the giant circuit board head. Inside the sculpture, there is a chair for a person to sit and watch a video presentation. The sculpture's body further contains recycled computer accessories such as keyboards and much more. Artists like Florencia Botindari, Cristina Galera and Pablo Irrgang worked behind the sculpture.
Boxer briefs made from Recycled Circuit Boards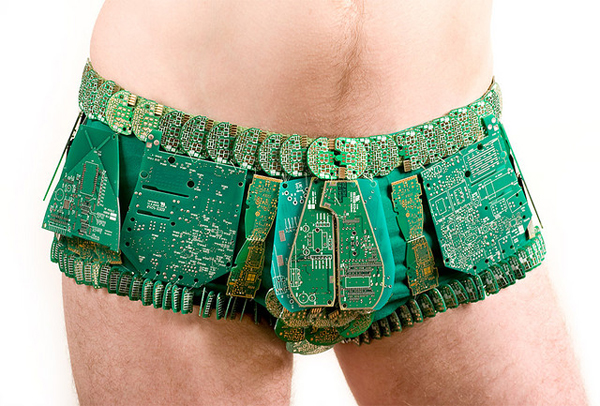 This is a crazy product; a pair of boxer briefs from recycled circuit boards and e-waste. Artist Emiko Oye has designed the awesome shorts integrating cotton spandex, sterling silver and rubber for comfort to wear. The San Francisco based artist has named the boxer shorts, Population Control 2.0; well, a matching name, indeed.
The Data Toilet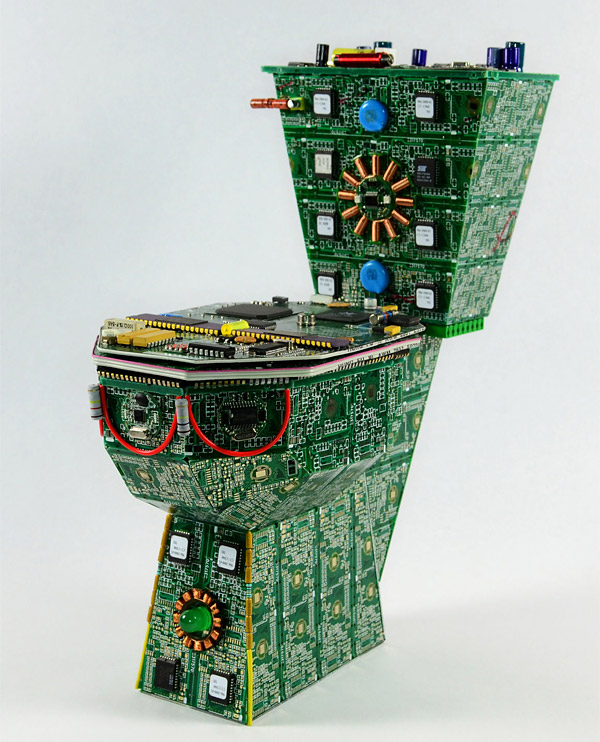 The Data Toilet is a small and funny toilet made from recycled circuit boards and other waste computer parts. PCB Creations that crafted this 12 inch tall and 5 inch wide toilet calls it, "the Royal Data Throne." Don't think that this cute toilet is a place to dump your body waste anyhow. But you can buy this piece for $500 and showcase the unique creation.
Circuit Board Seating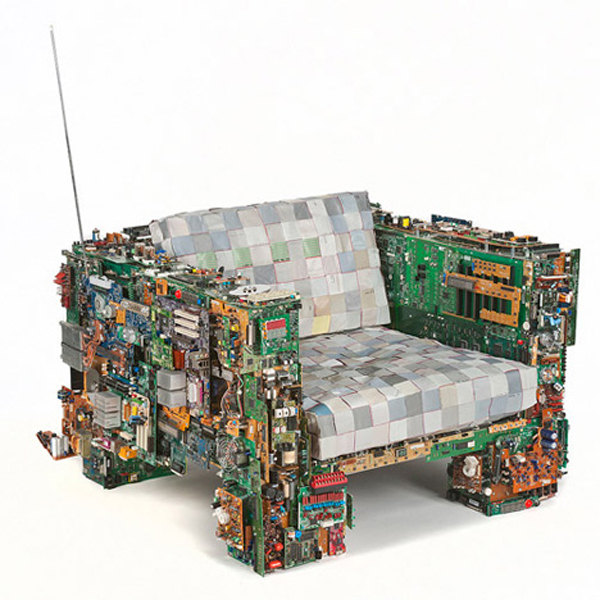 This is a grand sofa that utilizes recycled circuit boards and other computer parts. Designer Benjamin Rollins Caldwell has cooked up the idea of creating chairs with abandoned circuit boards and other e-waste. Rightly named, the Binary Seating, Caldwell produced three different models of sofas using recycled computer parts. The seating may look a little bit clumsy, but for a green nerd it will be far more exciting, indeed.
Circuit Board iPhone Case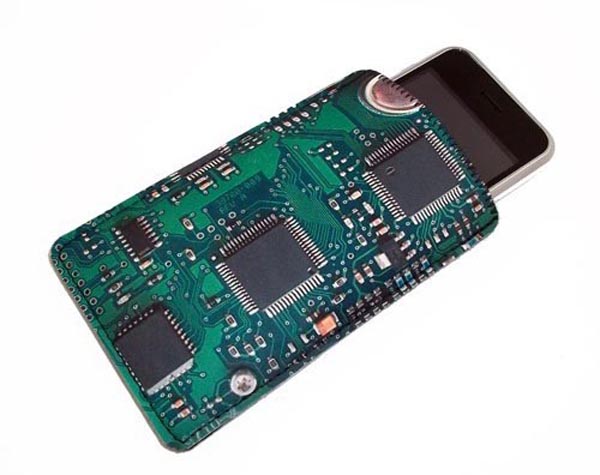 Can you imagine of an iPhone case claiming recycled circuit boards? Well, it is here. This circuit board iPhone case touts an exquisite look with chips and capacitors over its outer layer. It doesn't mean the inner part is also with those coarse chips and capacitors. The designer has used flexible matte plastic and black scratch free material inside the case. The iPhone case is priced at $18.
Circuit Board Mouse Pad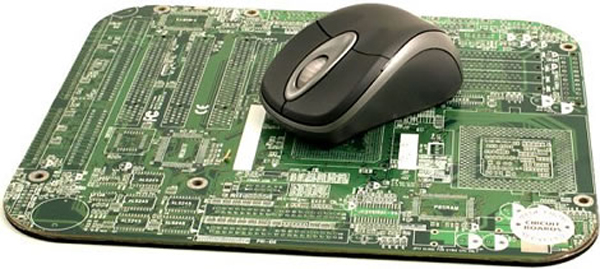 This mouse pad is yet another bizarre product from recycled circuit boards. Of course, the circuit board mouse pad won't work like your smooth regular mouse pads. If you use an optical mouse the pad will reflect due to its reflective surface. Its designer suggests you to use a roller ball mouse on this pad, which comes for approximately $16.
Recycled Circuit Board Bookends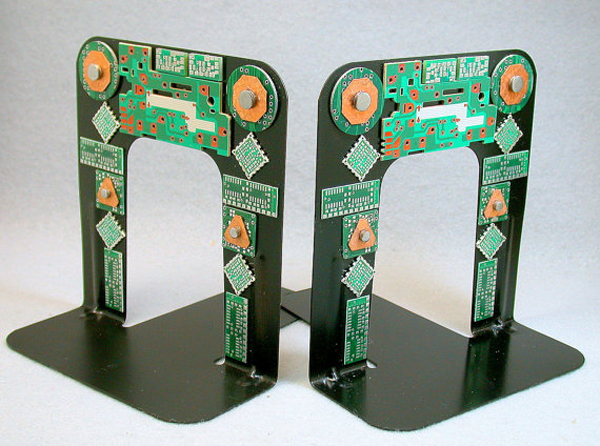 The funky bookends made from recycled circuit boards can well replace the old steel metal bookends of 1940's. With attractive looks, the Circuit Board Bookends will be better picks for green lovers for their home library. Each bookend is about 4 3/4 inch wide and 5 inch tall. The bookends are available for $65.50.