Best out of E-Waste!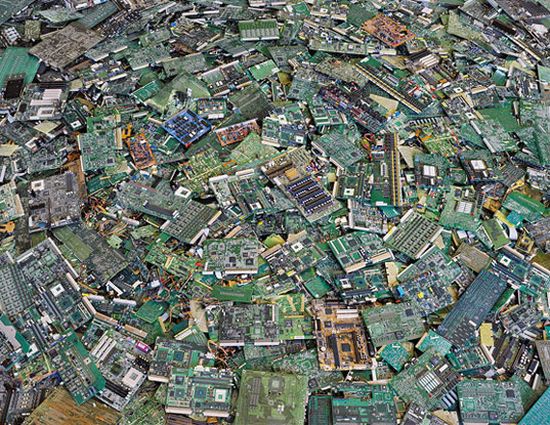 The rising piles of e-waste are the concern of almost all the nations today. At this point in time it is the biggest issue on the agenda of every environmentalist. Though some predictions have been made about the quantity of these e-wastes, the figure is much larger and increasing by the day. However, digital photographer Chris Jordan seems to have found a creative way to depict the large picture.
Chris Jordan has captured images of dumped up e-waste and converted it into photographic treasure. Jordan has, through his photographs materialized the statistics and brought to light our insatiable consumerism. Consumers use a product and dump it, not realizing the way it will add up with e-wastes produced by other consumers and appear as an ugly heap of garbage. E-wastes include everything from outdated and used batteries, computer circuits, cell phones and the likes, which we dump without even giving it a second thought. However when it all piles up the result is horrendous.
Chris Jordan's photographs capture the large scenario of e-wastes quite aesthetically without making it look ugly. The photographs are all stunning and make you realize the intensity of the problem. The photographs were displayed at Jordan's recent exhibition 'Running the Numbers'. Speaking on his work and inspiration, Chris Jordan said,
The underlying desire is to emphasize the role of the individual in a society that is increasingly enormous, incomprehensible, and overwhelming.
Via: Inhabitat