It has always been difficult to combine our 'sedentary' style, tech oriented work and outdoorsy style, bucolic exercising. So, while we stare away at our work desk computer, or simply doze off from boredom, a slew of adverse health effects like coronary heart disease, type II diabetes and certain forms of cancer as well as obesity are waiting to rear their ugly heads. To counter such malefic issues, a Belgian company named We-Watt has contrived WeBike, a line of table and seat set up with pedals. And, no these are not mere treadmill desks, because a WeBike can generate electricity from pedaling to conveniently power up your mobile gadgets.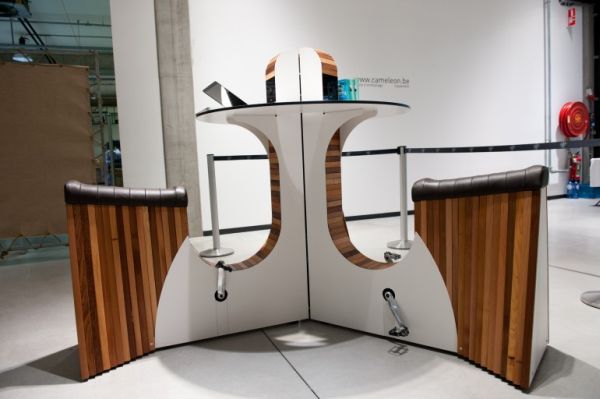 The arrangement of this work desk is quite simple, with three seats around a circular table, with each of them having their individual pair of pedals. Structurally, the main sturdy component of the form is crafted from aluminum and steel. It is visually strengthened with outward panels of reclaimed cedar for rustic styling, along with high pressure laminates form Trespa for the table top.
Coming to its power generation attributes, a single seat with a pair of pedals can generate around 230Vac/30Watts of output; which combines to around 90Watts per set up. And, to notch up on the user experience, the front of the seats is provided with interactive LED ring displays. Hence, the more pedal power a user produces, the higher would be the number of LEDs lighting up, thus indicating a greater magnitude of electricity generation.
However, till now we have only harped about the positive aspects of this unique conception. But, when it boils down to the cost factor, each unit comes with a hefty price tag of €9,950 ($13,154). So, at the end of the day, it depends upon the user's readiness to splurge his hard earned money; with which he could have perhaps bought a entry level hatchback.
Via: GizMag