Barn Doors: Add wood to it and make it look richer and eco friendly
Barn doors serve as the best rustic, industrial piece in most of eco-friendly homes. Moreover, they are adapted into various styles ranging from traditional to contemporary models. These barn materials were basically used in farm houses, where you would have noticed barn houses with heavy wooden doors.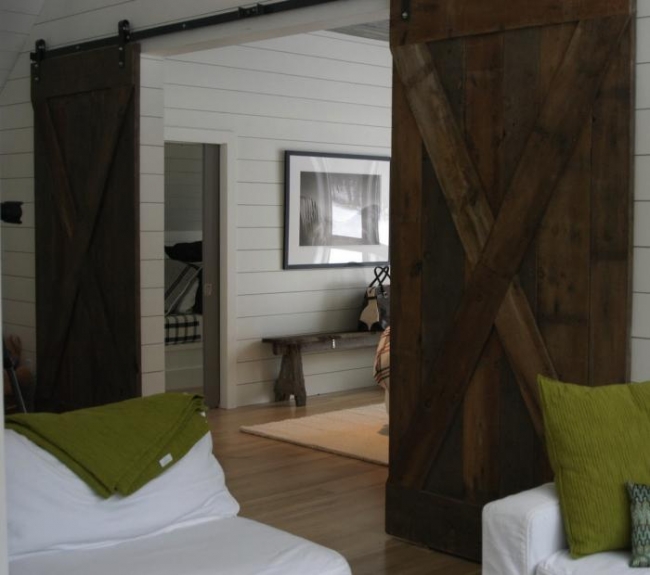 Typically, these barn doors are made from premium wood. In recent days, the homeowners are initiating to use charming wood barn doors for the outside and inside of their homes. Let us have a brief look about their characteristics, environment friendly benefits and ideas of incorporating barn doors into the living spaces.
Characteristics of barn door
Interior barn doors: Adding interior barn doors to your home will definitely give a rustic and unique style while at the same time it reflects a solid outlook. Furthermore, if you want to add a little different look to the interiors then using interior barn door is a best option. These doors are affordable and easy to install.
Exterior barn doors: Exterior barn doors are getting widely popular in the modern houses and apartments. These barn doors are actually made of strong wood materials that serve as strong unbreakable doors. They are widely used as exterior doors by many home owners for the sake of their childhood memories.
Advantages of using door made of wood barns
Durable: Barn doors are extremely durable, this serves as the best exterior door option. Moreover, no person can enter easily inside the house by just a force, which he or she should have to give a loud knocking on the barn doors.
Eco-friendly: Manufacturers use reclaimed wood materials to produce barn doors. Basically, wood barns are Eco-friendly by design and have a very less environmental footprint than the other competing door materials.
Reliable: These barn doors do well in home, apartments, arena designs and garage structures. Additionally, they can withstand heavy snow, severe wind and other intense seismic conditions.
Rich and stylish: Most of the people assume that the barn doors are ugly but they are totally eye-catching and attractive. They are available in various design and colors that would give unique texture and warmth to your living space.
Easy to install: Barn doors are easy to install as it has conventional door system. They are installed by just fixing on a track, which you can move along, easily. It is well assured by the manufacturers that there would not be any issues about the installation process.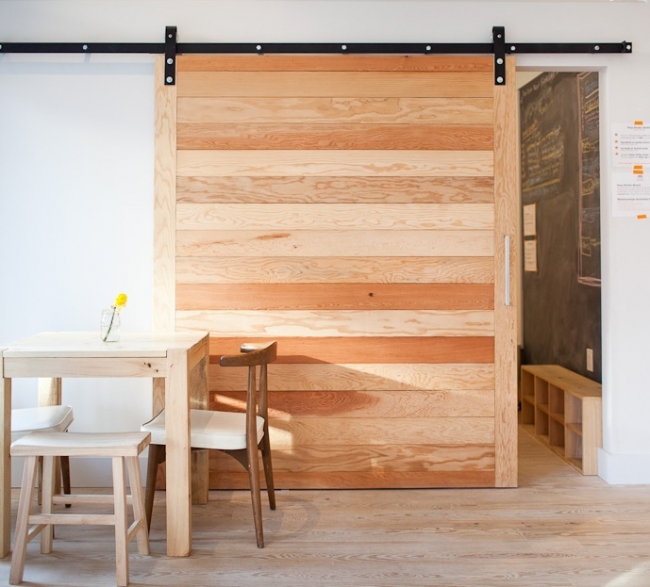 Eco friendly ideas of incorporating wood barn doors
Single track door: A weathered old wood barn door could actually stay as a piece of history. It will be helpful to tell/put in picture the story of a family stable or farm where the beloved animals were previously raised. You can blemish the wood or coat it as per your interiors. Both will help in a great way to compose a rustic/pastoral addition to your house.
Large sliding units: The best advantage of using sliding wood barn door is the potency/strength of the track that permits you to escalate a huge door on any wall. You can use a large sliding unit that will serve as a wide opening between the living room and the dining area. You can use a large barn door as a replacement for placing a room divider, which will help to offer more contemporary space in your house.
Split door arrangements: Another excellent wood barn door arrangement is using two doors on a trail, that opens from the center. It is necessary to stay creative as you can use the two doors to slide separately and expose an opening in the center. With careful placement and spacing you can place beautiful furniture or art in the border front of your sliding unit.
Decorative accent: This is one of the common option that you can use barn doors as a decorative accent like escalating on a wall in a fixed fashion like a piece of art work or you can slide side by side in front of a storeroom wall.
Pocket doors: Most barn doors are fixed up to slide, which they serve as excellent pocket doors. You can pair them with a barrier of wainscoting which will give a lovely look to your cabin retreat or cottage.
Added to these ideas, you can add some vibrant color to your home in tones of green or coral that will help in reflecting a green house structure. When installing wood barn doors it is important to consider the appearance on both sides/positions (opened or closed) of the door. There are also other barn door hangers and hardware options which you can check.