Bamboo has been used for decades in South Asia owing to its abundance, eco friendly features and fast growth. In Vietnam, this plant holds even more significance in culture. It symbolizes the Vietnamese soul, home and the spirit of Vovinam, the country's form of martial arts. It is only fitting, then, that architect Vo Trong Nghia and his team used bamboos to construct an exposition booth in the 2012 Vietnam Architecture Exhibition.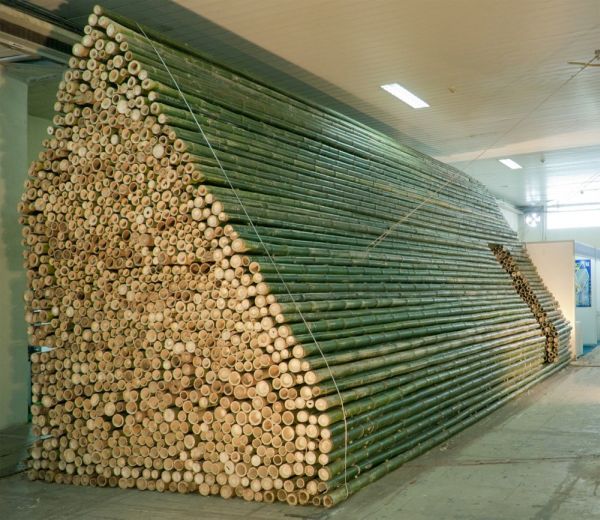 The 5-day event saw the team take two days to build the 4.2-meter high booth out of 500 bamboos. The intriguing structure sees the poles stacked on top of the other like a brick layout in a minimalistic manner. This was done taking into consideration the short time frame given to the architects. No metal joints were used in the construction with bamboo nails and wedges being utilized instead. However, the architects made use of steel wires to hold the walls and the roof together.
Longer poles were used to build the walls and the floor to form a polygon shape. As for the lateral ends, the architects used shorter bamboos cut into 60-80 cm and laid them down like bricks. The result is a structure with interesting dimensions – massive walls and ends that are dotted by the short bamboo poles – that highlight the importance of this plant in Vietnamese culture.
One of the benefits of bamboo is its fast growing nature. Able to grow at a couple of feet per day, the plant offers modest or low income families the ideal tool with which to construct homes and other structures. It's relatively cheap and low maintenance as well. Another advantage is its ability to thrive without the use of pesticides owing to a unique anti-bacterial bio-agent called bamboo kun. It's 100 percent biodegradable too and doesn't cause as much pollution to the environment as other materials.
Via: Archdaily