Australia seeks wave energy to answer its water crisis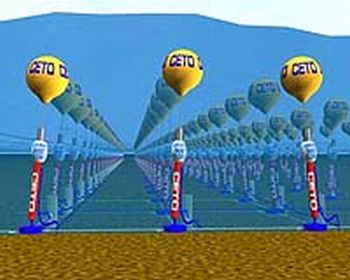 The drought-struck Australia seems to be up with arms to hunt for alternative solution to global warming – the root of droughts prevailing in the country's major cities. Presently, the driest inhabited continent on earth needs to derive solution from its immediate abundant resource – the sea water.
Cuing this source of energy, scientists have come up with a new technology that can harness electricity and drinking water from wave energy, to serve the major cities of Australia.
The US $636 million technology works through fields of submerged buoys tied to seabed pumps. These buoys are made to move in harmony with the passing waves' motion. In the process, the technology pumps pressurized seawater to shore, where it runs turbines passing through a desalination plant.
According to the Australian Broadcasting Corporation, Industry Minister Ian MacFarlane said,
The constancy of the waves even when the surface is dead calm means that you can build a base load renewable energy power station and that is really the holy grail for us, if you can produce renewable energy 24/7.
Thanks to the Perth-based Carnegie Corporation for developing the technology. Once its functioning is successfully kicked up, the "Wave Farms" would be capable of generating around 300 megawatts power, which is also emission-free. This eco-friendly production of power can serve about 300,000 households.
To watch the video of the CETO technlogy, visit here…
Via: dvorak