Audi's petite E1 e-tron concept spotted on the Berlin streets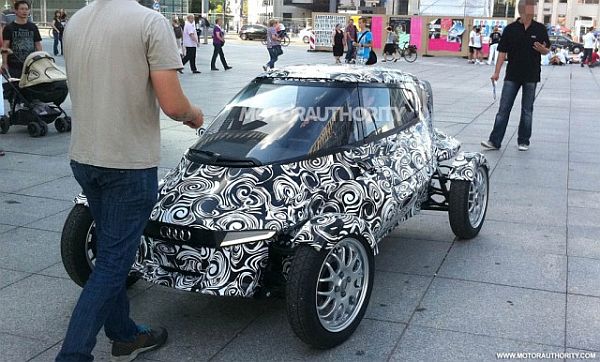 The exalted Audi becomes the latest of the automotive brands to launch an exclusively eco-focused line of cars by the apt name of E. Consisting of a fleet of fuel efficient petrol, diesel and e-tron electric vehicles, the range would occur from the bantam E1 (pictured above) to low emission supercar E8 (still at conceptual stage). As for now, the E1 ultra-petite two-seater pod is what concerns us, as this truly green vehicle to be showcased at 2011 Frankfurt Auto Show, was actually seen on the streets of Berlin.
There was no official information regarding the small car, with some specifications to be divulged at the Auto Show next month on 13 September. On observation, a nigh mute engine lies under the sprightly bearing of the dainty car, thus suggesting the fact that the vehicle is in fact powered by an all-electric setup. The close width of the form also alludes to a definite seating system where the passenger has to sit directly behind the driver.
Most interestingly, the unique seating arrangement also lends credence to the low emission nature of the E1. This is because such a type of setup was previously seen in Volkswagen's (Audi's 'mother company') L1 hybrid concept back in 2009. It was already touted to the most fuel-efficient car in the world at 1.38 liters of diesel per 100 km.
Coming back to this, the seemingly lightweight, aerodynamic frame coupled with an efficient electric drive train would certainly guarantee a good pick-up. Given the diminutive demeanor, it can also prove to be apt for a free-flowing, sustainable romp around the tight city corners.
Via: MotorAuthority