German automaker, Audi, is known for rolling out top-class cars with some even being featured in blockbuster flicks like the James Bond franchise. This noted car manufacturer is now showcasing its latest sports electric bike concept named the Audi Worthersee. Unlike the run-of-the-mill e-bikes we've seen, the Worthersee comes with networking ability via a smartphone as well as being built from lightweight carbon fiber reinforced polymer.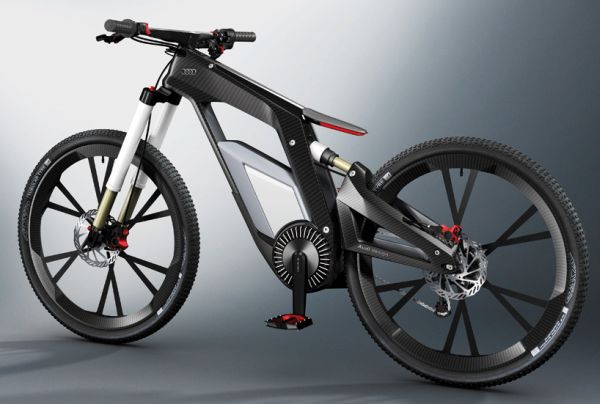 The futuristic looking e-bike has been designed for enthusiasts who love to try out tricks as well as use bicycles for sports. The Worthersee makes use of a lithium-ion battery pack for cyclists who need a little push every now and then. The lightweight CFRP frame and 26-inch tires add to pedal power, with the wheels featuring the Audi ultra blade style with broad, flat spokes.
The 21-kg bike makes use of an electric motor that delivers a very impressive 2.3kW of power with a power-to-weight ratio of around 9 kg. The Worthersee can be operated through any one of the 5 modes ranging from Pure and Pedelec to e-Grip, Wheelie and Training. Pure sees the rider driving the bike only through pedal power while Pedelec assists the rider with the help of the motor. e-Grip lets a user rely solely on the electric motor; Wheelie sees the power flow being electronically controlled, and Training lets a user maintain constant power input.
Worthersee is also equipped with an on-bike touchscreen that can be integrated with a smartphone through WLAN. It lets users record videos and upload them to the internet as well as allowing them to compete against other bikers and earn points for successful tricks. French freestyle rider Julien Dupont was offered a chance to test the bike and said that it delivers a lot of power while offering simplicity of use. With such praise coming from an experienced biker, the Worthersee looks ready to take on other e-bikes in its class.
Via: Designboom