As kids, rainbows signified something magical, an etherealness that had to do with fairies and leprechauns waiting at the end of the rainbow with a pot of gold. With age came a more logical explanation of moisture, sunlight and the reflection and refraction of light. But despite our understanding of the phenomenon, rainbows still have the ability to instill awe, similar to how witnessing auroras make us feel. Michael Jones McKean is a man with a passion for rainbows. His interest has led him to develop a system that actually creates a man-made rainbow which can be seen arching over the Bemis Center in Nebraska.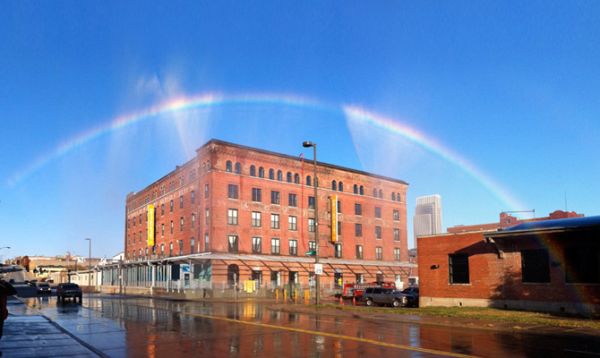 The Micronesia-born artist and Virginia Commonwealth University professor used repurposed rainwater and a solar system to accomplish this feat after having spent a good 10 years of his life researching the possibility. The man-made rainbow will be displayed for all to see twice a day for 15 minutes over the Bemis Center from June-September 2012. McKean's rainbow installation can be seen from 1,000 feet away. Nine fountain nozzles emit a light mist of the repurposed rainwater into the air with the use of 60HP pressurized jet pumps.
McKean recently conducted a successful test run of his project which saw passersby stop to take pictures of the beautiful phenomenon. Bemis Center's chief curator, Hesse McGraw, said that since the project doesn't have to rely on actual rainfall, the system can be run for three-four weeks with no rain. Even if the state of Omaha in Nebraska receives average to below-average rainfall, the project can still operate for over 15 weeks.
After 10 years of research, McKean teamed up with Lindsay Corporation to develop an integrated system comprised of solar panels, commercial irrigation and rainwater collection systems. About 63,000 gallons of water were filtered to six holding bins having a volume of around 10,500 gallons. The water is collected from roof top gutters.
Via: Designboom