Artist creates incredibly detailed portrait out of socks
Thanks to art, we're able to get glimpses into just what drives creative minds to produce wonderful pieces that are truly inspiring. Coupled with the need to recycle, art has now taken on revolutionary proportions that will hopefully drive more individuals to work towards the good of the environment. Take, for instance, the efforts of artist Hong Yi who's noted for using unusual materials to create art. She recently completed work on a stunningly detailed portrait using socks.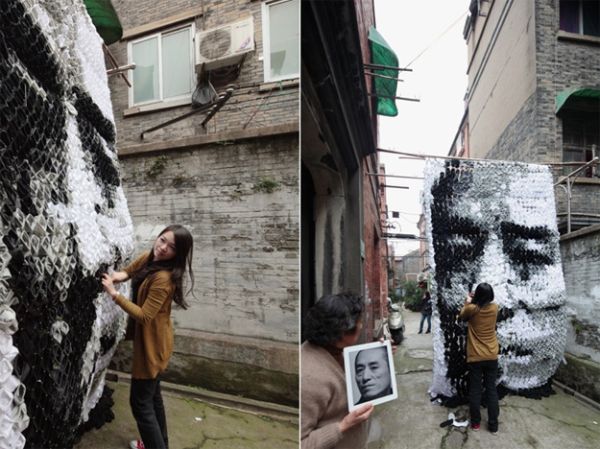 The innovative woman used 750 pair of socks to put together her work of art. Aside from the obvious environment impact such an undertaking could have, what's amazing is the quality of her work. While other artists use paint or pencils to create images, Yi likes to dabble in unusual materials. This is probably why her portraits take on a very different quality that makes your jaw drop.
Yi was driven to create her socks portrait after witnessing bamboo sticks containing socks hanging out of windows to dry while taking a stroll through the streets of Shanghai. She was inspired by the sight and decided to make a portrait of Yimou Zhang, a Chinese director, who often uses bamboo in his films. To get the right shading effect, Yi made use of white, black and grey socks. The piece of art took three weeks to complete.
Earlier, Yi made a portrait out of spilled coffee. She used the underside of a cup stained with coffee to create detailed patterns. Her unconventional take on art has earned her widespread praise as not only does she make use of unusual materials but manages to produce results that are amazingly detailed. A close up look of her art won't really reveal the amount of work that goes into creating them. Take a few steps back, however, and you'll be privy to a mind that works in unusual and unconventional ways.
Via: Bitrebels