Archipelago Cinema: An auditorium raft designed to float on the sea
Exploring the possibilities of creating entertainment avenues afloat in water is architect Ole Scheeren, who builds to go beyond what exists. Just recently, he built the much talked about Archipelago Cinema that offered a once in a lifetime cinematic treat for the audience. They savored every bit of the experience, watching a movie afloat on the sea, amidst the rocky shoreline of Yao Noi, Thailand. What makes the floating auditorium attractive to us, here at Ecofriend is that this raft is built from recycled materials.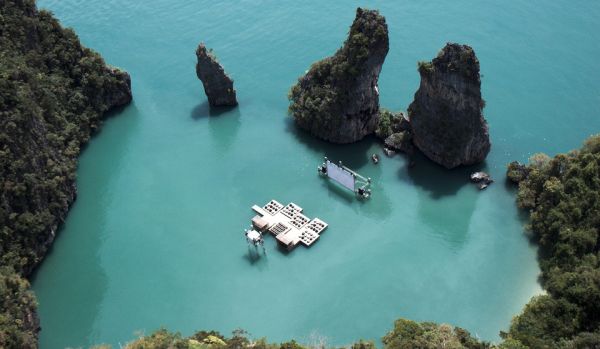 Curated by Apichatpong Weerasthakul and Tilda Swinton, the Archipelago Cinema was showcased at the Film on Rocks Yao Noi Festival in Thailand in March, 2012. The audience almost felt as if they were on driftwood, naturally floating, experiencing how nature and cinematic narratives could converge.
The inspiration behind designing the cinema was floating lobster farms. This helped Ole to establish a strong connection between the local community and the structure. The cinema was made from entirely modular parts and after the debut, all parts were dismantled and given back to the community for use as a playground and stage in the sea or maybe even as a lobster farm.
People who enjoyed their experience aboard this floating structure are certainly to be envied. The most inspiring aspect of the structure is that it displays how recycled material can be used to make marvelous structures and those not are only they good to look at, but are as much functional as you can think them to be.
Via: Fastcodesign