Antibacterial flavored toothpicks: Made of sustainably harvested wood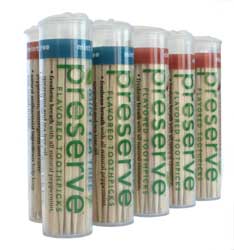 Here are some yummy toothpicks. To provide great long-lasting taste, they are available in special breath-freshening flavors. Is not only provides refreshment, but also helps keep your mouth healthy, as is provided with natural antibacterial ingredients.
The toothpicks are made of wood that are sustainably harvested – home grown white birch forests. Even the packaging goes eco friendly. It is packed in a hip, pocket-sized canister made from 100% recycled plastic.
Via: Recycline