An Eco-Kitchen for your budding little chef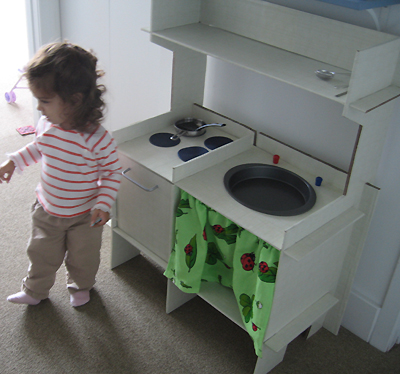 What is the first thing that comes to your mind when you read that title? Any guesses folks? Well, let me tell you anyway. For me the word "little chef" instantly transported me back to "Ratatouille", It is a wonderful little movie that speaks of so much stuff in such a simple fashion. If you have not watched the movie yet, then do go out & rent the DVD. It is worth it.
But we are not here to talk about the movies, are we? The cute little picture that you see above is that of a toy kitchen that a wonderful mom gifted to her tiny tot. Now what is so special about that, you ask? Well the entire kitchen set is made from cardboard. So what is so great about that? Don't you see it? When I say cardboard, I mean ONLY CARDBOARD. It is made from cardboard retrieved from dump. The making involved no usage of glue, no usage of nails or any other adhesive. Just cuts in the cardboard done craftily. It really is a beautiful work.
Remember that this mom (Anna) is no professional designer. She covered it with paper, to give it that fine look. Very, very crafty indeed! The entire set can be disassembled & can be redone again. Now that truly is one super mom!