Ambitiously planned commercial domicile to become one of the first green projects in Norway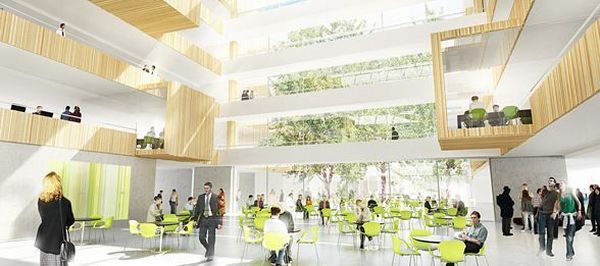 A collaborative effort from Henning Larsen Architects and NCC Property Development has won the competition for designing a mega yet "green" 12,000sq m commercial domicile in Oslo, Norway. Now, this commercial domicile can be dubbed as a new type of spatial evolution where the stringent organization of a work space has been circumvented to allow more adaptability in the total design, in effect fusing more 'residential' features like the absence of corridors and the increased use of the floors as a consistently singular spatial element (like landscapes) without the traditional hierarchy.
According to the architects, this conception would be analogous to a modernistic passive house. The main focus of the design will be its flexibility, especially in relation its mixed space usage. The micro zoning will allow for different tenants to use the building spaces for both retail and offices now and in the future. Moreover the design also makes it possible to convert the building – or at least a part of it – into residences at a later point.
The planning features free circulative spatial characteristics by dividing itself into two separate volumes (office spaces) connected by joint, central panopticon (concept of a design that allows views from an upper level). Cubic meeting rooms will be flanking the huge central atrium for visual contact as well as accessibility. Additionally a staircase will conveniently connect all the individual floors.
Now coming to the most interesting part of the design i.e. the 'green' factor, the building will incorporate a plethora of sustainable elements. In addition to adoption of natural daylighting and ventilation, according to the architects:
…the project has also worked with sustainability in terms of materials consumption during construction, choice of cladding materials, accessibility, reduction of water consumption, waste handling, operation, usage conditions, plot maintenance etc. The sustainable solutions have been incorporated into the project by means of Integrated Energy Design.
Source: HenningLarsen