Algae to convert carbon dioxide into biofuel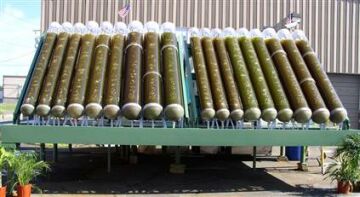 Clean fuel from carbon dioxide! Yes, that is what algae do – help combat global warming by removing carbon dioxide for the environment, turning it into clean fuel. Along with GreenFuel Technologies and NRG Energy – the independent power producer, the state of New York will be testing this eco-friendly and alternative energy producing technology.
The partners described the process, in a press release:

In the presence of light, the single-celled algae take up CO2 to produce the energy that fuels plant life — with a general rule of thumb being that two tons of algae remove one ton of CO2. Once the algae are harvested, they can be converted to generate commercially viable byproducts such as ethanol or biodiesel.
The project will be funded by the New York State Energy Research and Development Authority. And, it is at NRG's coal-fired power plant in Dunkirk, N.Y., the project will test GreenFuel's CO2 recycling technology.
In a statement, NYSERDA President Peter Smith said,

This project has the potential to not only benefit the air quality in the surrounding community, but to also continue our progress toward producing clean renewable energy here in New York.
Once successful, this project will effectively provide an affordable, reliable and environmentally responsible energy.
Via: MSNBC