Affordable, solar-powered drinking water purifier for poor countries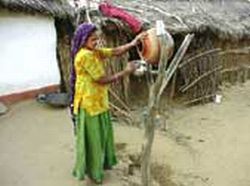 Here is a good news for poor countries suffering from diseases arising from drinking water contamination. Scientists at the Mumbai-based Bhabha Atomic Research Centre have developed an affordable and user-friendly water purification device. Since it is lost-cost and does not need electricity to work, it can provide safe drinking water even in remote, non-electrified parts of the world!
Capable of producing up to 20 liters of potable water every day, the device requires sunlight and titanium dioxide — a cheap, abundantly available material to run. Titanium dioxide – in the presence of ultraviolet rays of the sun, becomes chemically active and kills bacteria.
The device consists of a steel plate coated with titanium dioxide to hold the water meant for treatment. The device is capable of producing up to 20 liters of potable water every day.
The steel plate can be fixed to the bottom of the plastic tray, which holds the water meant for treatment. A glass plate works as a dust cover. With no recurring cost involved, the price of the water purification system could cost less than Rs 1,000, if produced in mass-scale.
Via: Down to Earth
Enjoyed this post? Please share the love...