A two tier recycled beer bottle chandelier for your pool table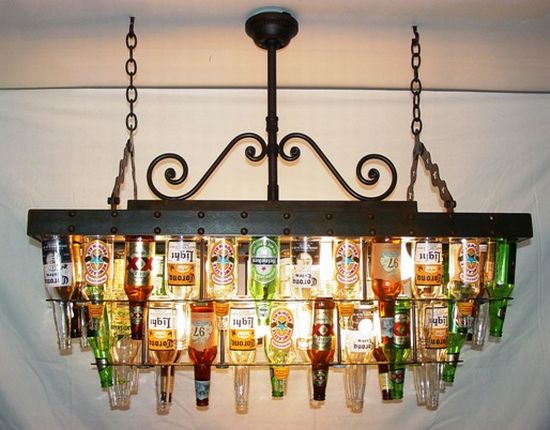 Did you ever want a chandelier hanging from the top that actually matched the look of your pool table or your club? I mean, you have this very macho environment being lit up by the most feminine of chandeliers. I personally have seen a couple of those and I personally do not think there is much wrong with that. It actually could be quite symbolic about how the raw energy of the man needs the guiding light and voice of sense of the feminine. But then, that is only my take and why bother about those big fancy lights when you can have one that sports beer bottles.

Recycled bottle art is not just something that can go pretty well with your existing style but also helps the planet in a huge way. Not only does it stop us from buying brand new glassware, but it also lessens the requirement for those giant landfills. This is a two tier, 52 bottle filled unique design, with rugged elegance. It features a steel rivet top band and two elegant scrolls on the light bar. Chandelier designs can be customized if you desire. The light bar holds eight bulbs on two levels. Beer bottles are not included; which encourages the users to send in their own used beer bottles without discarding them.
While it might not be a stunning piece of art or an amazingly creative idea, it must get full marks for both being original and also trying to make pretty good use of the waste glass. It is small efforts like these that can help save the planet one day by reducing and reusing waste.