$450M green hotel to promote great tourism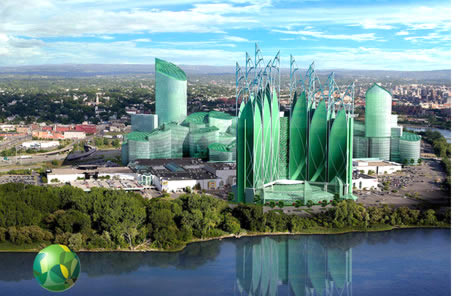 It has been already very well highlighted that every hotel across the world is in a constant attempt to make itself a more viable option for its customers than its closest rival. While it is indeed great to have hotels that alter parts of their existing infrastructure to make the stay of their customers more green & pleasant, it is absolutely fabulous that we have someone who is trying to make an entire hotel green. Remember that if someone can indeed campaign claiming that their hotels to be eco-friendly, it not only creates conscious customers who go out looking for more such hotels but it also helps the hotel make profits by giving it a unique image. Hence it is indeed a win-win situation.
Robert Congel intends to build a green hotel in the state of New York at a budget of $450 million. This 1342-rooms hotel & conference center would be built on the south shore of Onondaga Lake in New York. The 40-story hotel will be the largest outside New York City once it is finished. The builders intend to make it completely green by deriving the energy required to run it from both the sun & the hydro-electricity. The rain water on top of the building will be collected & diverted for generating power. This indeed is truly a very unique way. I know plenty of building where the backdrop for lifts is water flowing from the top floor, all the way down. Maybe they too can use this idea.
All in all, the idea looks pretty nice & hopefully will be an economic success too as that would surely help it spread.