A book to inspire you to green up your kitchen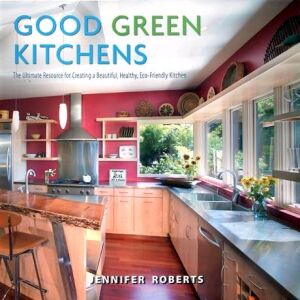 The world is busy trying to redeem the clean, virgin environment we destroyed. While many politicians, groups, organizations etc participate in the green race, why don't you do your part right at your home, especially at the room in your house that requires maximum care… the kitchen?
To help you get started here is a book from Jennifer Roberts (Gibbs Smith, $29.95) called Good Green Kitchens: The Ultimate Resource for Creating a Beautiful, Healthy, Eco-Friendly Kitchen. The book will give you in-depth tips to get the greenest kitchen around. It covers every green topic you need for your kitchen– right from lighting, air quality, floors, storage, counters, energy-efficiency, green cooking and eating tips that will make your kitchen every environmentalist's pride.
To give a clearer picture, she has also illustrated 10 completed green kitchens that are bound to inspire you. If you are keen on getting your own green kitchen, and find the information provided insufficient you will be delighted to know that she has also provided huge bibliography and glossary.