5 green architecture projects developed by students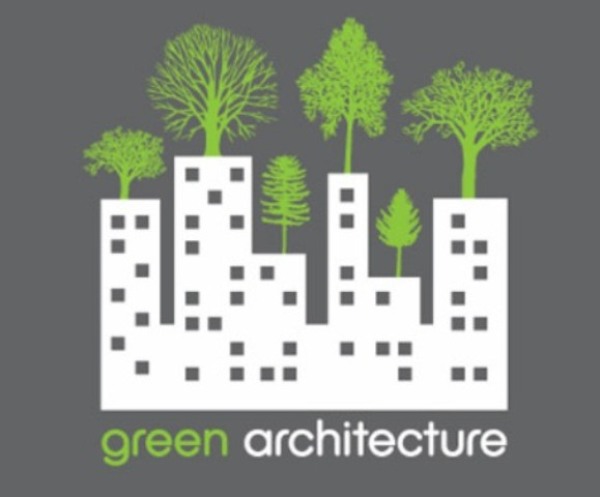 There is a lot of emphasis on energy conservation, eco friendly products, biodegradable alternatives to synthetic products etc in every arena of life. That marks the importance and seriousness of the current environmental scenario. The awareness has gone a long way. Students of architecture world over have been attempting to present green buildings with sophisticated infrastructure at par with conventional buildings at a cost effective rate. These buildings range from conserving energy through usage of solar power to assembling the entire building using natural/biodegradable products. These young architects are not only environmentally conscious but have also managed to capture the aesthetics in their green designing. Unlike architects of the past generation, the current and future generations have a greater challenge to meet. Here are some of their spectacular works:
1. Be Paletto: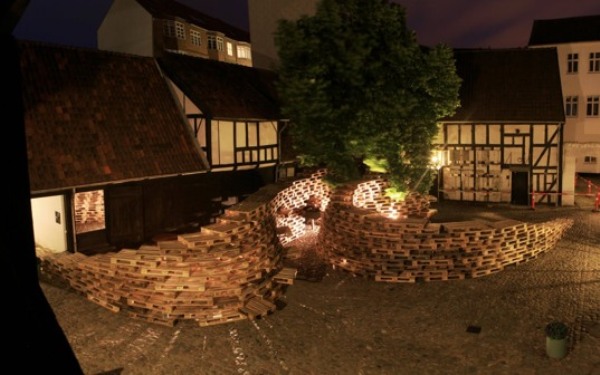 This was a strip of platform curving and inundating for walking through the school's courtyard. The structure was built by stacking wooden pallets in a cantilever to create natural steps. People seemed to be greatly attracted by the structure and many of them were found to use it to walk across the courtyard or sit on the steps to get some sun and socialize. It's the idea and work of 9 architecture students at Aarhus School of Architecture, Denmark who were on an exchange program in July 2010. The entire structure when lit up at night was a treat to the eyes.The Be Paletto gained a lot of popularity at the school and the effort was appreciated.
2. FabLab:
The FabLab is a fabulous house with self sufficient resources and sustainable energy. Built by the architecture students of Institute for Advanced Architecture of Catalonia, the house produces three times the energy it consumes from the sun. The entire structure is laden with solar panels to generate electricity. The design is supported by three legs and has undisclosed ways of keeping it cool too. The house is a great example of eco-living and no wonder it was also put on sale for a starting price of 45,000 €.
3. Non-recyclable cardboard housing: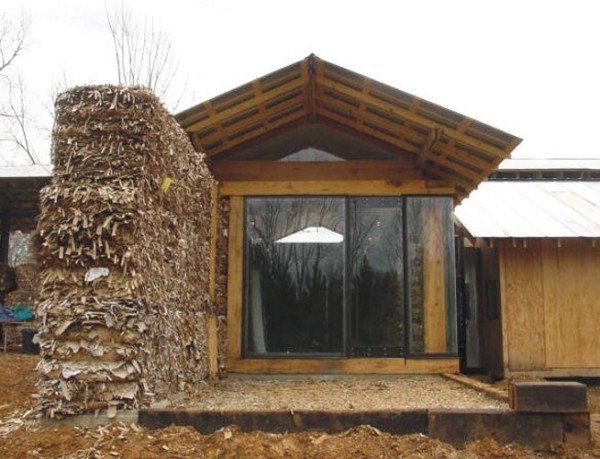 The students of Auburn University have created an eco-friendly house using non-recyclable waxy card boards. These corrugated, waxed cardboards usually go as waste. They were processed to resemble straw bales that were then used to create the house. Bales wrapped in plastic were first buried under the ground to lay the foundation. The walls were built by stacking up the bales and securing them by ring beam of large timbers and an 8 inch bond beam on top. The roof was made out of metal.
4. Temporary Bar: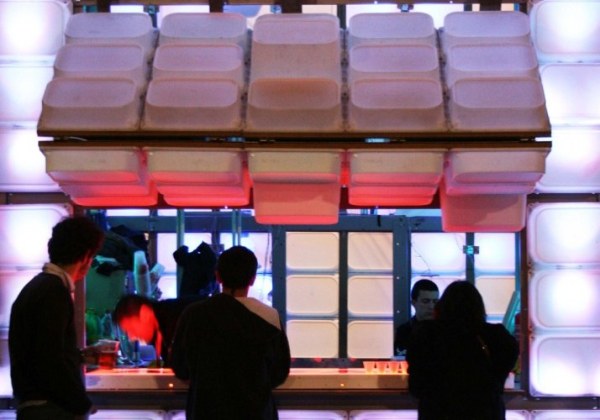 At a competition conducted by Oporto School of Architecture, the students designed an innovative bar and built it using IKEA tubs. 420 such tubs were first fixed to a wooden frame work and then erected on the metal structure at the given spot. The tubs were well lit with LED bulbs giving a party ambiance on the entirety. This design was considered outstanding and in fact won the competition hands down.
5. Goat Milking Shed: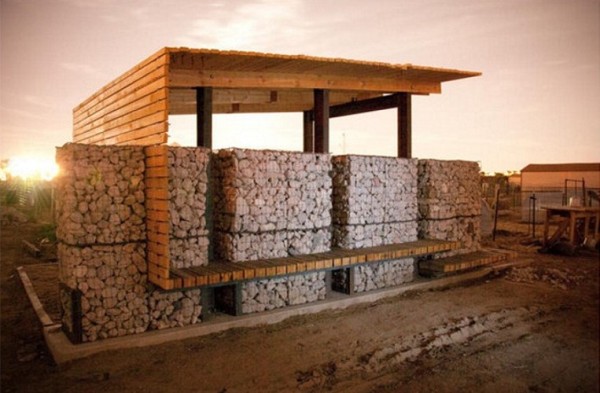 This modern goat milking shed was constructed by the students of University of Colorado, Denver. The fact that this structure was constructed using core of gabion boxes filled with reused concrete tailing makes it all the more impressive. While it is considerably spacious and appropriate for the cattle and goats, the design also includes a few in-built seats for human inhabitants probably for milking convenience.