5 DIY motorcycles created for a zero emission ride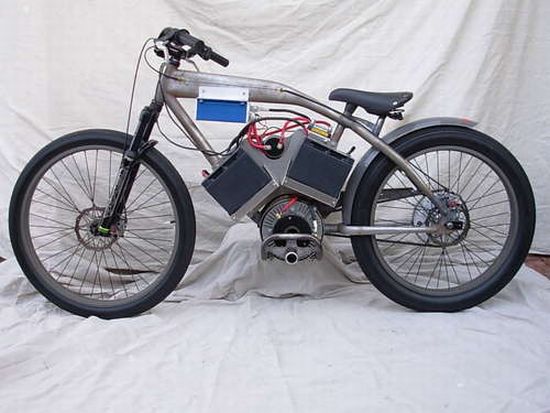 DIY offers a great and often the simplest alternative to anyone who might be interested in energy conservation and the ways in which we can protect the environment. So, it's time you switched gears to cool and green-loving rides. Check out these muscled machines with a heart, built by some really green folks.
1. Sensei Ninja 250 DIY Electric motorcycle
The Sensei DIY, cooked up by Bill Mills is based on the popular Kawasaki Ninja 250. Though many bikers might sigh at the prospect of a bike without its trademark 'vrooom', remember, this electric bike powered by 24 aviation grade lithium iron phosphate batteries has zero emission. The Sensei (which means master in Japanese) can reach a top speed of 55 miles/hr with a range of approximately 30 miles. Ninja nerds will also be pleased to know that the battery's density puts this DIY machine in the same league as the real 250 when it comes to weight and center of gravity. This bike is a perfect ride for the congested urban space.
2. DIY Electric Motorcycle Kawasaki
22-year-old Tom Miceli's final year project as a student at the Appalachian State University might just throw Kawasaki out of business. All those years of dirt biking came in handy when he decided to open up a '96 Kawasaki ZX6 Ninja and got to work and what came out is a DIY electric motorcycle capable of clocking 70 mph, with a range of 60 miles. Piling up the shapes from his favorite bikes Miceli stayed ambitious and gave the bike a very sleek, futuristic design, but also kept in mind the pocket of the average biker. It has a 600cc engine and two dozen 40 Ah lithium iron phosphate batteries. Plus, the bike retains its original weight, along with a considerably similar center of gravity. It takes six hours for a 110 volt outlet to recharge the battery. The bike can't do wheelies. But Miceli's working on the bike, and he's recruited his dad, an electrical engineer, into the team, who helped him with the wiring. $ 12,000, which is how much the ION cost him, might have been too much if he hadn't been covered by his local college.
3. Eco DIY: Beach Cruiser Bicycle
This is one of the cool DIY that can be tried by beginners. A father and son took a beach cruiser bicycle and turned it into a 48 volt electric motorcycle. This 15 horsepower motorcycle boasts of zero emission, powered by a Briggs and Stratton Etek electric motor; enough to pull up around 30 mph for a few hours. Not quick enough for you? Well, It saves trees!
4. DIY electric bike
Don't want to buy a new tree-loving bike? Ever wondered how to go green with your existing bike? Engineers Jeff Radtke and Hands Noeldner have crafted an electric powered bicycle wheel. This wheel can be hooked up to almost any bike, and it gives you about 10-20 miles on each charge. A Dewalt 36 V battery pack gives a maximum speed of 28 mph and a high dose of the purest O2.
5. DIY Electric Kawasaki Motorcycle by Benjamin Nelson
Benjamin Nelson went to a website and bought a Briggs & Stratton ETEK motor. Then from a farm store he dug out a sprocket and chain. His only power tool was a lone drill. Now he noiselessly cruises everywhere with a 15 mile range at 40 mph. Talk about DIY! He modestly claims that because his bike has no vibrations or noise, he can now 'hear the birds' while riding. Can't beat that!