1st look exteriors: Showcasing 'green' products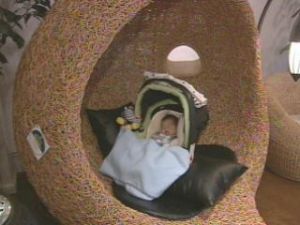 Designers Greg and Terri Lee got together to establish 1st look exteriors in 2002. All these years, the duo has stuck to their motto: Go Green.
1st look exteriors is a specialty retailer with a focus on earth friendly quality products for residential & commercial clients. A tour around the store would put you in a fix as to what to choose to take home and what to leave behind. Truly, each and every product is so beautiful that we would have loved them even if they hadn't been made out of recycled products. But the fact that they are only makes them special manifold.
Furniture takes up most, almost 80%, of the spacious store. What you see above can serve as a chair or a resting place for babies. The store boasts of garden chairs, foot rests, restaurant chairs and tables, recliners—you ask for it, they have it.
They even have on display a simple bench with a glimmering plastic-like finish that's made out of… hold your breath… milk cans! I found the candles adorable, though they are by no means the focus of the store. They glow eternally on recycled batteries and change colors too! Pretty and 100% safe, they would bring cheer to any room.
Then there are the lampshades, mostly made of recycled plastic. They are marked by their modern design and impeccable style. A cute little reading lamp running on LED lights adorns a corner of the store. Look up and you will be stunned once again by a huge spherical light. Don't let your jaws drop too fast, because the next thing you are going to hear is that it has been crafted out of silkworm cocoons! Pretty little mementos made out of recycled copper rest in a glass showcase. Pick up a copper flower or a leaf, or settle for the big hibiscus—it's always a win-win for you.
Environmental awareness reflect in the recycled glass home decor, stare from the photographs and are spelled in the printmaking.
Terri and Greg's work has already received the recognition it deserves. It has been showcased in New York, Los Angeles and San Francisco. The couple recently opened a showroom in the Waipio Gentry business area to showcase their art and other fine outdoor products.
Via: Khon2