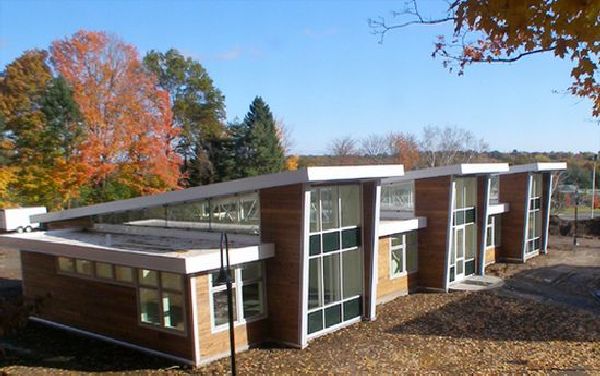 We always talk about our future and how various 'green' measures can be adopted to accentuate upon its level of sustainability. But what about the new breed of users who are going to be a part of this new level of naturalistic, emission free interaction with the environment? Yes, we are talking about our future generation and their coping up with the advancement of 'green' technologies. And what better way to start their sustainable journey than right at our exalted temples of education – our ever trusty classrooms? So, without further adieu, we present to you the 15 eco friendly classrooms for the green thinkers of the future.
Gen7′s Prefab Eco Classrooms: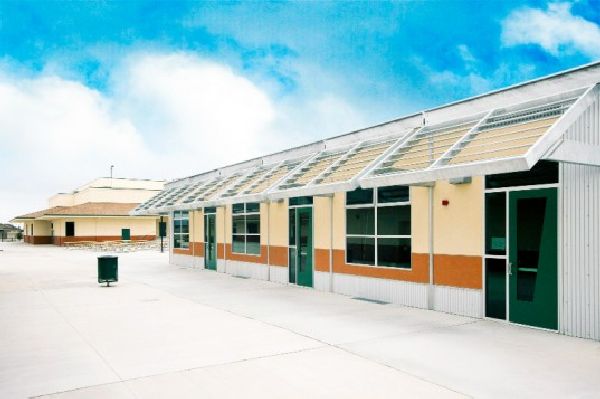 Gen7′s Prefab Eco Classrooms situated in Bolsa Knolls Middle School in Salinas, California, truly epitomizes substantiate the meticulous approach to sustainability, with its plethora of green features. The classrooms are modular in structure, with their energy efficient, well insulated design that not only allows for natural lighting and ventilation (Thermal Displacement Ventilation System), but also incorporates effective acoustics (which is an important factor in classrooms). The insulation system has been ingeniously contrived by utilizing old blue jeans and low-volatile organic compound (VOC) paints.
Project frog modular classrooms: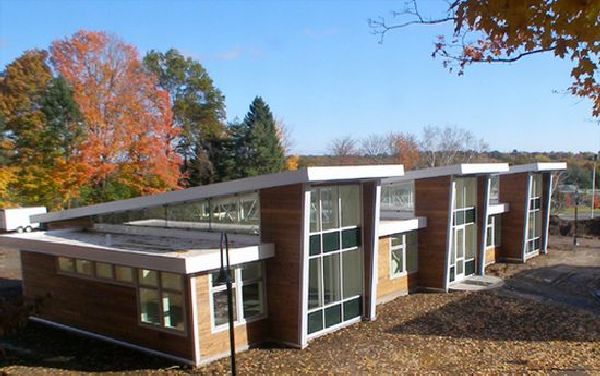 Watkinson School in the San Francisco Bay Area has their own set of 3500 sq ft ofclassrooms that are fitted with 60 solar panels for clean electricity generation. The conspicuous clerestory windows with minimalist design approach allows for induction of natural light and cost effectiveness. As a collective approach to sustainability, even students here are taught lessons about environmental awareness.
Anderson Anderson Architecture designs an eco friendly learning space: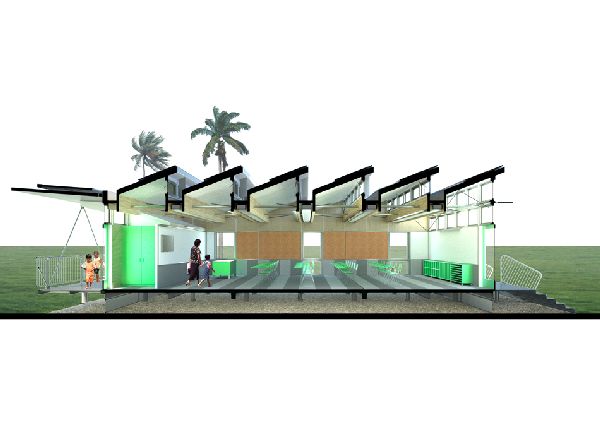 This concept of an eco friendly learning space looks forth to incorporate mobility with green features. The slanting roof system will be fitted with solar panels, whereas recycled straw panels will be used as insulation material inside the rooms. Other energy efficient features like rainwater harvesting, natural lighting and wind energy generation will also be integrated with the whole educational system. Moreover, in a bid to reach out to greater audience, the performances and solutions regarding these installed features will be broadcast via the internet.
Kris Celtnieks's Prefab green classrooms: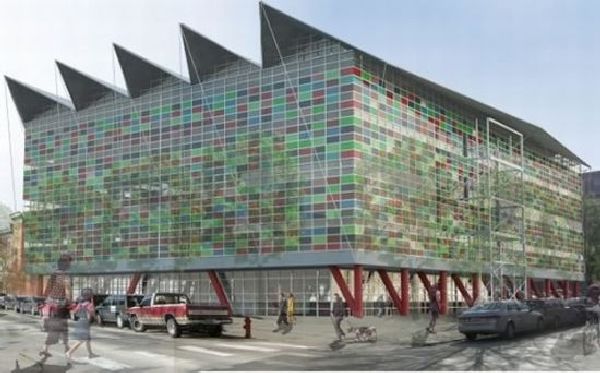 Another prefabricated mobile classroom, and this time it is designed by architect Kris Celtnieks. The structure is infused with many sustainable attributes like a fabric roof, adjustable micro-climate, a self-contained waste-processing system, efficient lighting and good acoustics. But the convenient feature of the classroom would be its portable nature, as it could be installed in a wide variety of areas with different spatial characteristics.
Rafael Viñoly Architects designs Edward M. Kennedy Institute: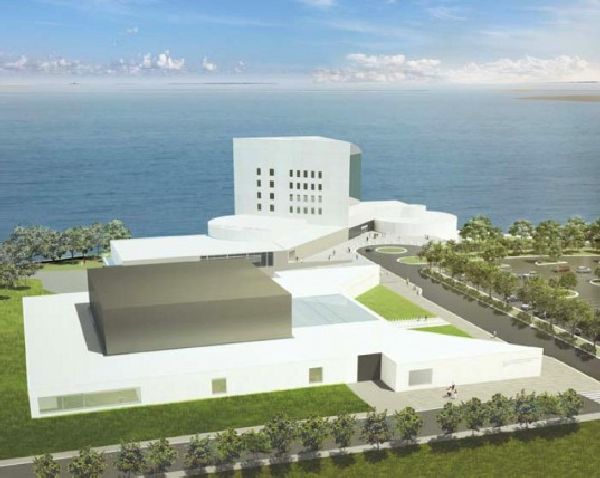 Though not strictly in the category of conventional classrooms, nevertheless this grandiosely green structure will incorporate an educational facility. The 40,000 sq ft institute will form a part of the overall Edward M. Kennedy Institute, commissioned by the U.S. Senate and designed by Rafael Viñoly Architects. The designers have envisioned the building in such a way so as to achieve the highest LEED (Leadership in Energy & Environmental Design) standards. Moreover, sustainable design considerations have been taken, like usage of precast concrete and admittance of natural lights.
Flexible Prefab Prototype Schools for Los Angeles School District: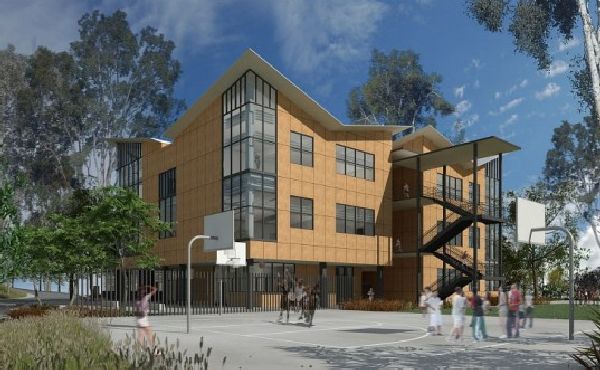 One of the winning entries submitted by Gonzalez Goodale Architects for the competition organized by the Los Angeles Unified School District (LAUSD), this conception looks forth to incorporate a pre-fabricated sturdy structure with convenient and sustainable elements like curtain walls for allowing natural light, or rain proof exterior. Moreover, the roofing system would incorporate solar panels, whereas the garden will include green landscaping. The structure also calls for a conscientious yet cost effective solution to over crowding in public schools.
Blue Forest's off-grid 'Eco Classroom':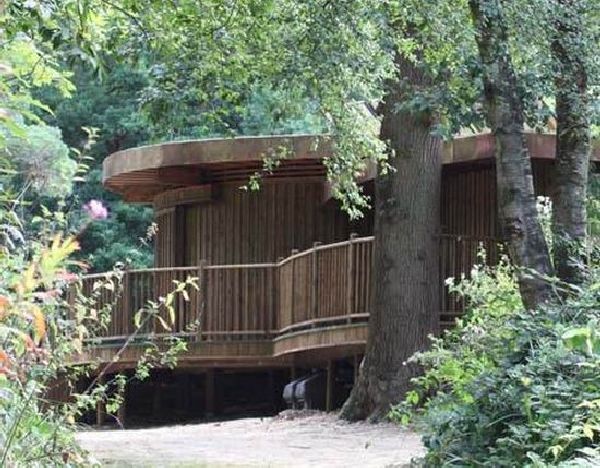 Conceived as a naturalistic extension of nature itself, the Eco-Classroom for Benenden School in Kent will be located inside the 'wilderness' of a parkland. The structure will be composed from harvested timber, and the roof will be outfitted by solar panels. Actually the whole building will be off grid by just utilizing clean solar energy. The designers also envisaged this academic system to be the first of its kind in England where harvested rainwater from the green roof will be reused into hot and cold drinking water, by using solar energy.
Pugh + Scarpa Architects' Animo Leadership High School: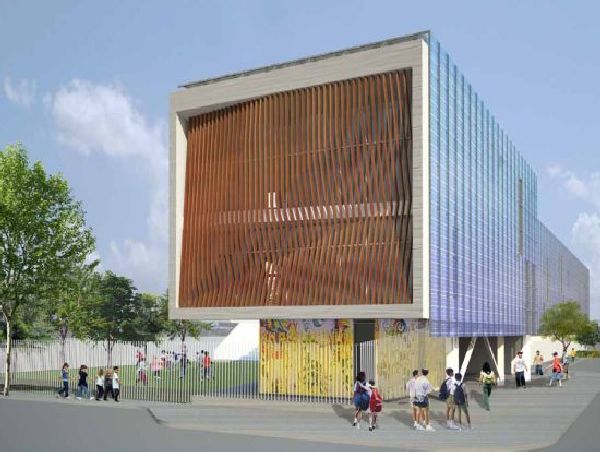 Designed by Pugh + Scarpa Architects, the conspicuous design element of the Animo Leadership High School would be its faceted and ribbed screens. These screens actually will serve two purposes; as firstly they would regulate the intensity of direct solar gain from outside (effect of direct sunlight). Secondly and more importantly, they would incorporate an array of solar panels for clean electricity generation. The form of the building will allow maximum exposure for harnessing of solar energy. The 650 solar panels to be installed on its south facade is estimated to reduce carbon emissions by over 3 million pounds.
Flexible Learning Environments by HMC Architects: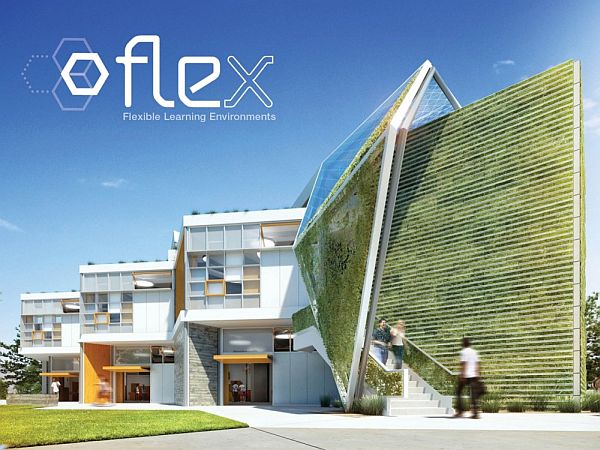 Most of the classrooms we come across have that ubiquitous rectangular 'box' shape. Now with the length exceeding 30 ft, only 20 ft of space is practically usable (the distance between the corners increase) because of spatial related attributes such as visual perception and acoustics. And in a bid to rectify the situation, HMC Architects have come up with Flex – a simplified solution of designing hexagonal 'honeycomb' structures, where the distances between the corners would remain the same. Furthermore, other green features like integrating photovoltaic panels, green screens, rainwater harvesting, chilled beam system, dry fixtures, gray-water reuse, low carbon materials would also be introduced into the overall design.
Group Phi's Sustainable Military School for Girls: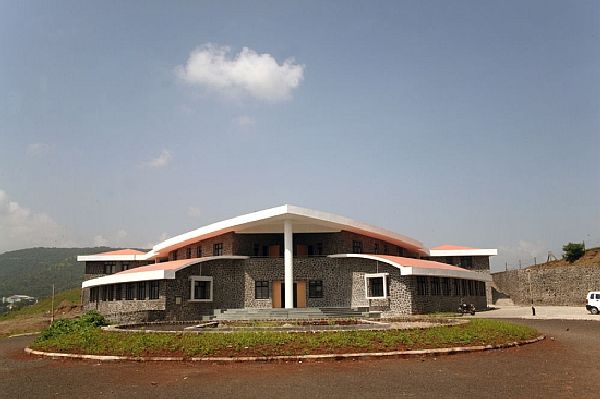 Looking more like some upscale resort than a school, this interesting design conceived by Group Phi is located in the educational hub of Pune, western India. The 720 student's capacity structure has courtyards covered with eaves made of polycarbonate sheets. They have the dual function of protecting the corridors from rainfall, and also accentuating upon the induction of natural light into the structure. Moreover, the building comes with a gray water recycling system to reuse waste water.
Kita Design's sun-powered tree-top classrooms: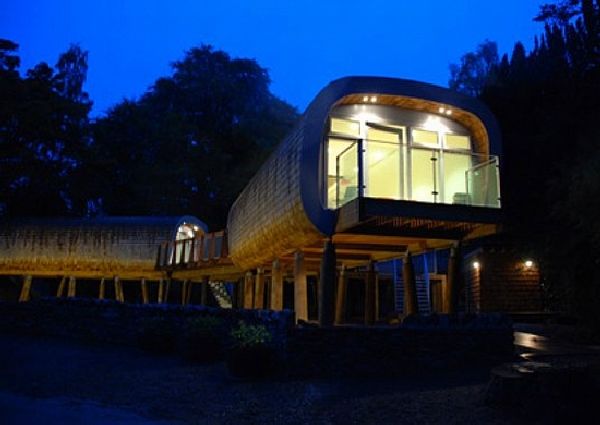 Another fascinatingly naturalistic conception, and this time it's in the form of Elleray Preparatory School, designed by Robert Gaukroger of Kita Design Company. The elevated 'tunnel' system does look like some covered rustic pier. But basically these 'coverings' are constructed from ribbed timber frame set upon Douglas fir stilts and then clad in English chestnut shingles. And other than the recyclable building materials, the design also incorporates solar panels for clean energy generation.
Mikou Design Studio's Docks School: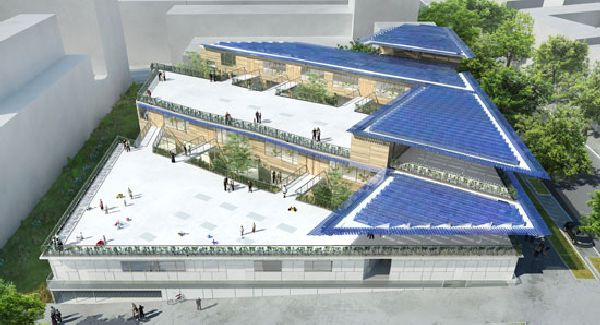 This multi-tier concept of a unique structure designed by Mikou Studio will consist of different academic departments on different leveled platforms. The nursery and the primary school will be sheltered by canopies fitted with photovoltaic panels, which will be inclined at an angle of 30 degrees for maximum sun exposure, in effect harvesting optimum solar energy. But the panels will also be spaced by solid metal strips to avoid shadows being cast.
3DReid's RotatED: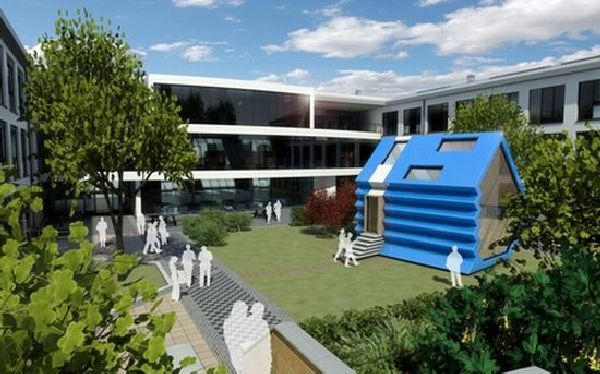 A collaborative effort by 3DReid and Blue Forest, the RotatED can be at best described as an improvisational enclosed spatial element that can actually be rotated (basically tumbled) along its horizontal axis, to cater to wide range of requirements. The designers have envisioned RotatED to be used as base shelter for schools with a plethora of finishes including photovoltaic panels and toilets, depending on the budget and specific criteria.
Arkhefield's Creative Pavilion: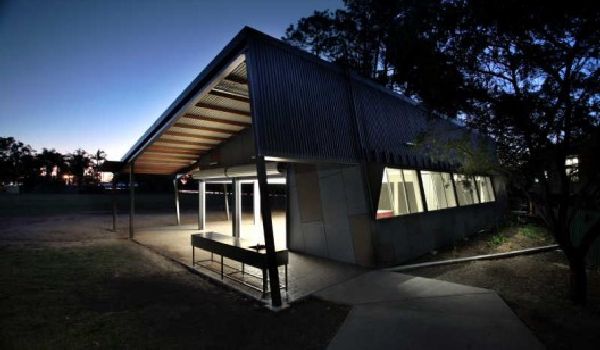 At the first instance it may look like a minimalist structure, but the design incorporates flexible, accessible as well as complex spatial elements inside the structure. This, in turn, allows for a much wider range of user activities and functions, especially if we consider the actual large space inside the Creative Pavilion that can hold six classrooms or even a school concert. This influences a dynamic learning experience for the kids. From the sustainability point of view, the huge openings of the building can be used for natural lighting, where as the large roof can accommodate a water tank to harvest rain water.
New Hillside Middle School: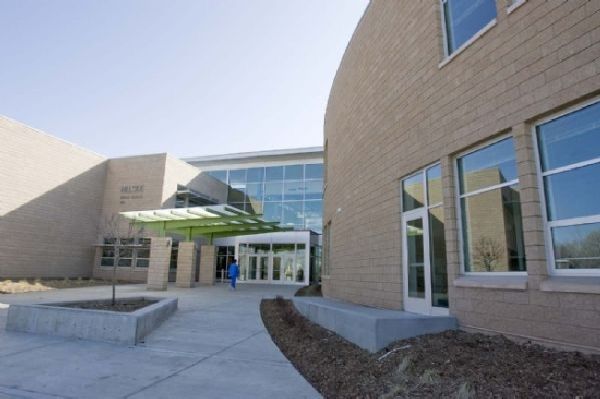 The $20 million New Hillside Middle School in Salt Lake City created a history of sorts when it became the first nationally certified green building. Various attributes allude to the whole structure's sustainable nature, including totally insulated windows for reducing direct solar gain, design techniques that allow for enhanced natural lighting, paints with low level of volatile-organic compounds, and at last but not the least an advanced filtration mechanism to nullify harmful particles from entering the school's ventilation system.