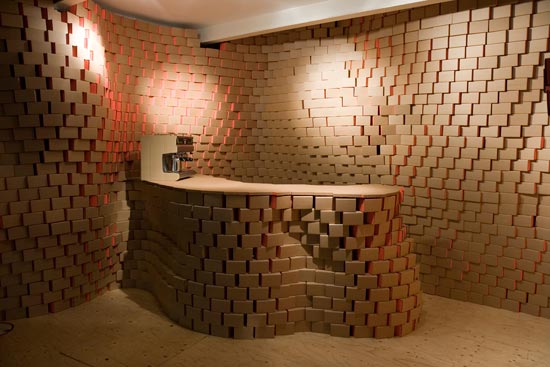 In a bid to save forests, designers have tried to make use of materials that can replace wood to carve your home or office furniture. Finding alternatives isn't easy, but designers have not started trusting the strength of cardboard as a raw material for steady furniture. Cardboard designs are all the rage these days, as they not only give various interesting ways of being crafted but are also easy on the environment. In recent times, we have seen some stunning cardboard creations that can change the perception of recycled and recyclable furniture. Here are a few…
• Cardboard Design's Furniture: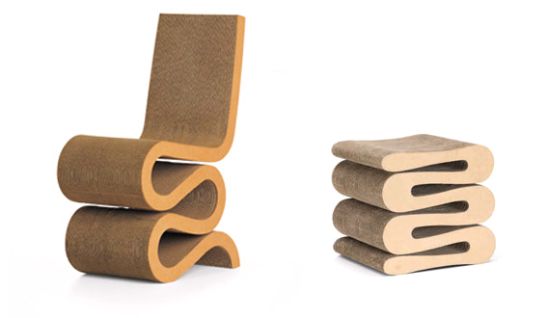 Cardboard furniture designed by Cardboard Design requires no screws or toxic glues. Furniture crafted by the designers here is already made of recycled bits and is further recyclable as well.
• Volvo Seating Unit: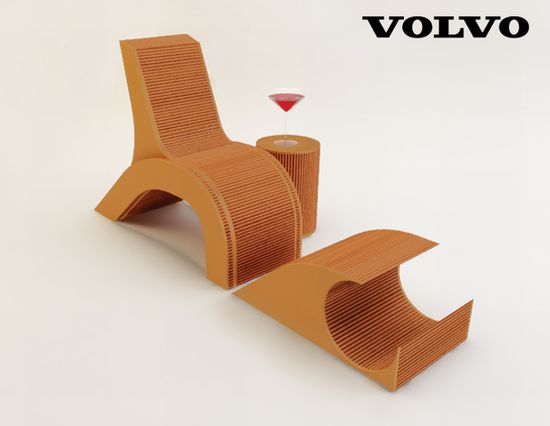 Crafted from sustainable cardboard, the Volvo Seating Unit will display your love for the car and the environment as well. The chair comes with an integrated ottoman and side table, which can be detached from the main unit when the need arises, and when you need some more space in your living room, simply slide them back into the chair.
• Re-Furnished Project: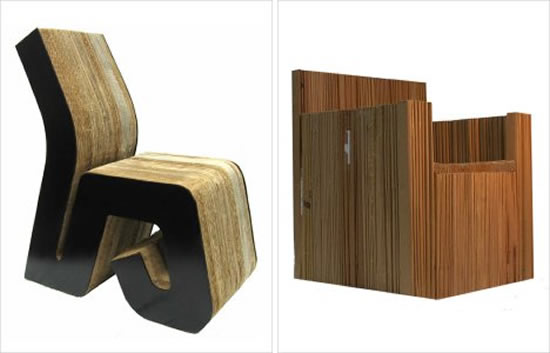 Designed by the students from the University of Idaho, the Re-Furnished Project is all about furniture made from recycled cardboard. From sturdy looking stools to tables and chairs, these students have created a variety of products using green materials.
• Cardboard Café: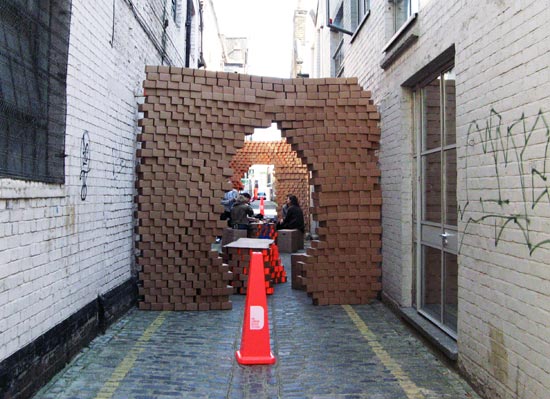 The Cardboard Café was showcased at the London Design Festival 08 and captured the essence of recycling and reuse in a beautiful and subtle fashion. Created by b3 Designers, the café featured seats and tables made from cardboard that was made to hold together by hot glue guns.
• Liborius Reykjavík's Cardboard Furniture: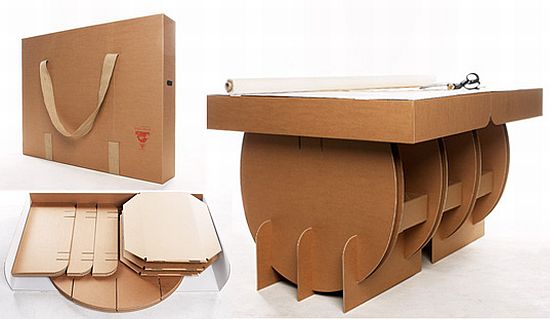 Created especially for designers and students who often find themselves using low tables or even floors to get their work done for lack of enough workspace in their studios andclassrooms, the Portable Cardboard Table is an ideal mobile solution for creative minds on the go. Made by Sruli Recht, Liborius Reykjavik and FormFast, the design utilizes flatpack cardboard pieces cut in an ergonomic pattern that can be easily slapped together to make a great working table that is also 100% portable.
• Disposable Cardboard Bed: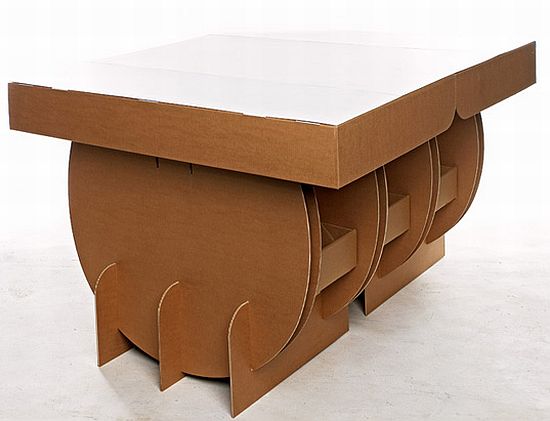 Created by a young Russian designer, Nikolay Suslov, the Disposable Cardboard Bed is an inexpensive bed that may prove handy for poor homeless people worldwide. Inspired by the chaise lounge and different kind of beach chairs, the cardboard bed is finished with five layers of corrugated carton, processed with waterproof substance, which makes it durable in all seasons.
• Cardboard Bookshelves: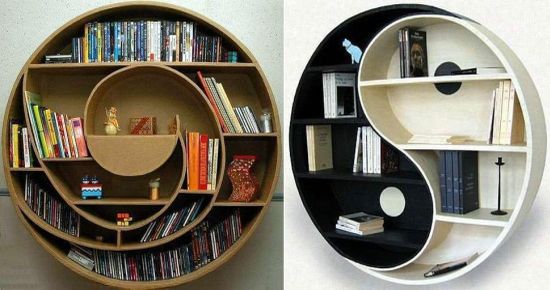 Created by Eric Guiomar, the Cardboard Bookshelf features a circular shape which looks more like a sculpture than a storage system. The design enhances the décor of your living as well as working spaces, while the cardboard finish makes the designer bookshelves affordable and green.
• Lazerian Studio's Radioleria sofa: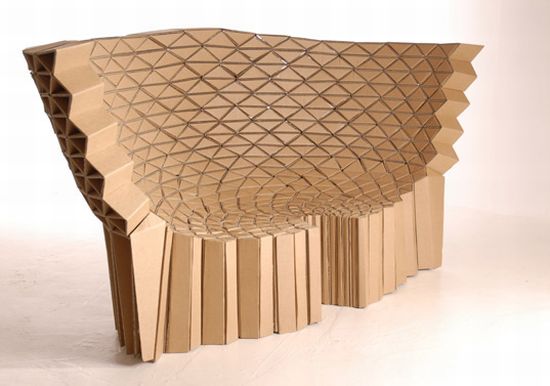 UK-based Lazerian Studio transforms simple sheets of recycled cardboard into beautiful furnishings. The design firm unveiled several stunning projects at the Milan Design Week 2010, including the Radioleria sofa, which is inspired by intricate natural forms such as wasp nests and sea organisms.
• Bold Chair: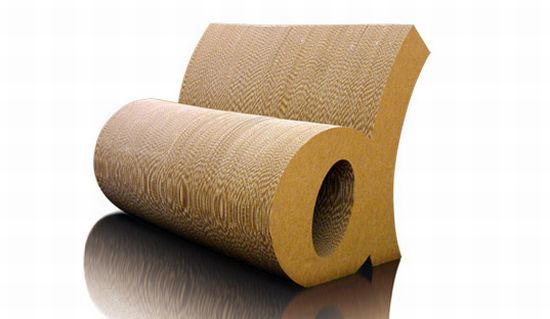 The Bold Chair by the designers at SanSanserif Creatius is a funky-looking seating module that has been created from 100 percent biodegradable corrugated cardboard. The screw-free chair is extremely lightweight and can still withstand resistance of up to 2000 lbs.
• Leo Kempf's Recycled Cardboard Conversation Table: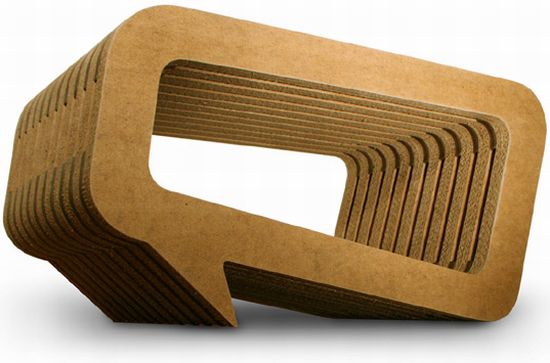 Created entirely from scrap pieces of cardboard, Leo Kempf's conversation table is billed to be sturdy, witty and an excellent option for those looking for a coffee table that will get your guests talking.
• Karton Art Design's Cardboard Furniture: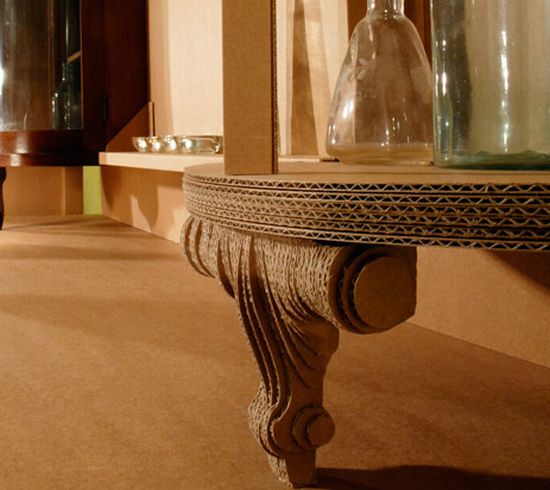 Designers over the Karton Art Design have developed a unique method to fold and clip cardboard so that the finished product is as strong as wood and as light as paper. The designers created a variety of furniture including chairs and shelf units.
• ChunWei Liao's Transformer Furniture: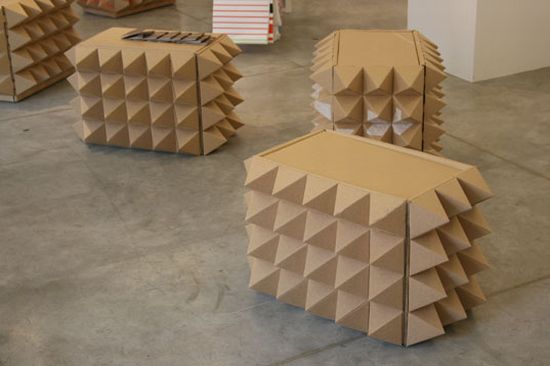 ChunWei Liao's Transformer furniture collection is a perfect example of the uniqueness of cardboard furniture.
• FoldSchool: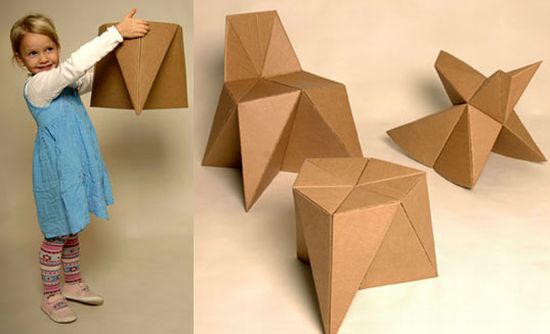 FoldSchool's furniture is a combination of DIY crafts, cardboard and kids. The products aren't for purchase, but rather downloadable free patterns are available on the webpage of FoldSchool, using which the furniture can be created as a good DIY exercise.
• David Graas's Cardboard Furniture: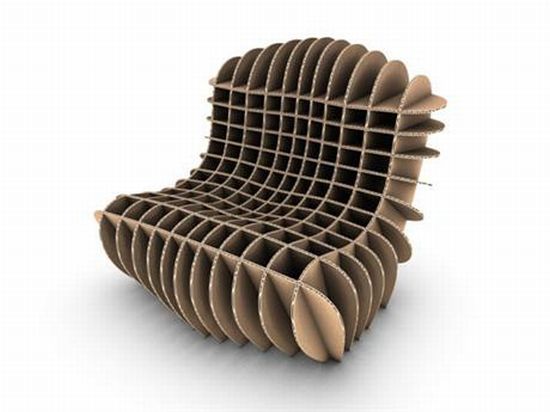 Dutch designer David Graas's furniture is characterized by its combination of humor and material. The designer's cardboard display includes a lounge, coffee table and dining table that simply slide together like a jigsaw puzzle.
• Erdem Selek Cardboard Stool: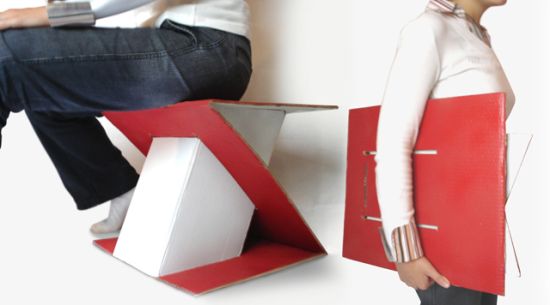 The Cardboard Stool by Erdem Selek is perfect for concerts, camps and parks. It is very easy to set up and looks very neat indeed. User can even change the color of the stool by reversing it inside out. The portable Cardboard Stool provides a very interesting spin to a material that is usually discarded and viewed as having little use. Only for people up to 90 kg.