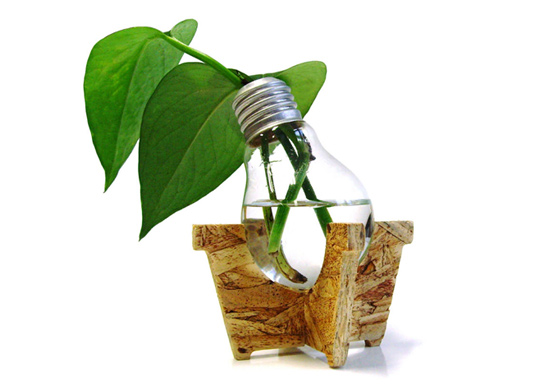 Incandescent lamps have been used extensively for domestic, commercial, advertising, decorative purposes as well as for portable lights like flashlights, table lamps, car headlights and so on. Considering the huge consumption of these lamps we are also left with a huge amount of old incandescent lamps which eventually find their way to the landfills. However, with a little bit of imagination and hard work these waste incandescent lamps could be put to better use. Here are ten such ways in which incandescent lamps have been given a new lease of life:
1. Potus Pot by Natalia Hojman and Angeles Estrada Vigil
The Potus Pot is an amazing way to reuse old clear incandescent lamps and turn them into pots for growing mini-plants. These beautiful planters with the lamp-pot balanced on an OSB base would be perfect for bringing in greenery to your home. This stunning design is an innovative way to recycle incandescent lamps.
2. Christmas Ornaments
Old incandescent lamps, whether clear or frosted, can easily be turned into various Christmas decorations by simply painting them and adding some decorations. These ornaments would not only look good but would serve as great craft projects for kids. Your old lamps can get a new lease of life by being transformed into Santa, an angel, a snowman or just about anything else.
3. Recycled Light Bulb Hanging Vases by Esprit Cabane
Esprit Cabane has recycled old incandescent bulbs into elegant mini hanging vases that have room for a single flower. These charming vases are very easy to make and can truly add liveliness to your home when you group them together and hang them across your window.
4. Light Object Kits by Bulbs Unlimited
Bulbs Unlimited have developed do-it-yourself kits that enable you to build your own object out of old incandescent lamps. These old lamps can be put together to create any shape possible. Hence, you can create your own personalized light fixture and add a touch of 'green' to your interior décor.
5. Multiple Bulb Window Vase by Crafty Bits
Crafty Bits has also come out with something similar to Bulbs Unlimited – a do-it-yourself Multiple Bulb Window Vase. In this kit, you can put together one or more old bulbs to create your own window vase and can affix a wall hook too for hanging purposes.
6. Ornaments From Old Lightbulbs
Peggy Kaufman, an artist from Nebraska, makes beautiful hanging ornaments out of old incandescent lamps which she has now converted into a successful business. Peggy has virtually transformed the old lamps and turned them into collector items. She collects old lamps from various neighbors, friends, Home Depot, hotel engineers and then recycles them into beautiful hanging creations.
7. Valentine DIY Projkect by Grace Bonney
This innovative Valentine DIY Project by Grace is made by using an old incandescent lamp that would serve as the perfect Valentines Gift for your loved one. Set atop a stand which carries a message for your sweetheart, the emptied-out lamp would carry a red rose to commemorate the occasion. This is a brilliant thought and a great idea!
8. 'Weeble' salt & pepper shakers by Diy Maven
Turning old light bulbs into 'Weeble' salt and pepper shakers is a very good way to create something that can be used and appreciated. These salt and pepper shakers can also be made at home as they are easy to make and require simple materials.
9. Light Bulb "Green" House by Linux
This cute mini greenhouse creation by Linux is a 'green' way to recycle old light bulbs. The Light Bulb Greenhouse looks very inspiring and you can grow your little saplings and watch how they grow in these transparent mini growing spaces.
10. The Bug Light by Datamancer
Datamancer's light bulb art creation called the 'Bug Light' is a beautiful art-piece made out of an emptied-out used light bulb. Inside the bulb are tow fireflies that have bodies made out of resistor and abdomens that are made out of small amber-colored LEDs with translucent wings. The 'Bug Light' also has a toggle switch at the base for turning on/off the LED lights.