10 stunning solar powered tree designs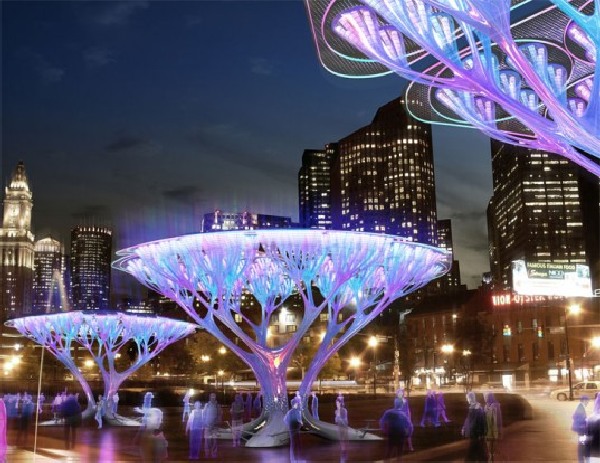 Instead of causing problems for the environment with the abundance of carbon footprint, we should come up with some practical solution to clean up the mess and that is why clean energy sources have become appealing. Solar power keeps the surroundings cleaner and healthier. Photovoltaic cells that harness the solar power is an attractive option for capturing light and generating electric power. Various designers have implemented this PV technology in their designs and have created solar powered trees that amount to generation of cleaner electricity in an eco-friendly way. Out of many, we have listed the 10 best below.
1. Backyard Science: The Solar Powered Tree
Designer Gurdeep Sandhu has created this solar powered tree that is energy-efficient and can be easily installed taking up a minimal space in your backyard. The solar panels soak up the sun's energy during the day which can be used instantly or can be stored for future. Its major advantage is that the solar panels can be upgraded according to the latest PV technology to gain maximum benefit.
2. Solar-Powered Tree: Boston Treepod
France's Influx Studio and SHIFT Boston collaborated to design The Boston Treepod. Designers Mario Caceres and Cristian Canonico have created these solar powered trees which not only harness solar energy to generate electricity but also suck carbon dioxide from air and convert it into oxygen. The solar panels are supported by the wide branches and umbrella style of tops.
3. Solar powered tree that can be carried around
The solar powered tree designed by Jun-Se Kim, Min-Goo Kim & Dong-Eon Kim is light and portable and you can easily take it along with you to any place. The solar panels of this personalized solar-powered pole can generate enough electricity. It also contains sufficient sockets to plug in multiple devices at the same time.
4. Ross Lovegrove's Solar tree
The renowned Welsh designer, Ross Lovegrove, teamed up with ARTEMIDE, the leading Italian specialist for innovation in lighting, and SHARP SOLAR, a global market leader for solar cells to create the solar powered tree for MAK (Museum of Applied Arts/Contemporary Art) in Vienna. This solar powered tree was the first in the city to provide a street lighting system that was powered by the solar energy generated by the solar panels during the day.
5. Pininfarina designs EV charging solar tree
Italian automotive designer Pininfarina has created the Antares, a solar powered tree especially to power his two-seater electric car called Nido EV. The solar powered tree is composed of 20 photovoltaic solar panels that can produce up to 4.6 kilowatts of energy that is sufficient to recharge two electric cars.
6. SonUmbra solar-powered tree lights up the night
SonUmbra is a solar powered tree, whose branches are composed of light emitting strands that glow in the dark. The canopy of the photovoltaic panels seizes sunlight and prospers light and sound during night time. The sonic shade of light was exhibited at London's Design Festival and the remote areas were chosen for the implementation of the beautiful design.
7. Electree – Solar-powered 'Tree' to charge your mobile devices
This solar powered tree is designed in the shape of a bonsai tree by a Paris-based industrial designer, Vivien Muller. The small solar panels of 'Electree' collect the solar power during daylight and produce electric power that charges the battery inside it. This in turn is used to charge cell phones, digital cameras, iPods etc.
8. Light Tree: A solar-powered hydroponic street lamp
The innovative concept of light tree is created by Omar Huerta. The nano-tube solar cells grasp the radiant energy of sun during the day which powers the LED lights. It also employs the hydroponic techniques to grow plants at the ends of the tree's branches giving it a unique beautiful natural look.
9. Solarflora: This solar-powered generating tree comes handy while travelling
California-based Darren Saravis, the founder of Nectar design, has created this solar-power generating tree. The Solarflora is used in park lighting and even charging small electric vehicles. The solar panels are made from locally produced materials and can generate around 750 watt-hours a day.
10. Nothing design group: Tree Solar Streetlights
Tree Solar Streetlights are a creation of Korea-based Nothing Design Group and Asiana Airlines along with Korea International Cooperation Agency (KOICA). The solar street lights are established to safeguard the tourists who come to visit the Angkor Wat in Cambodia and also to lower the carbon dioxide emissions.