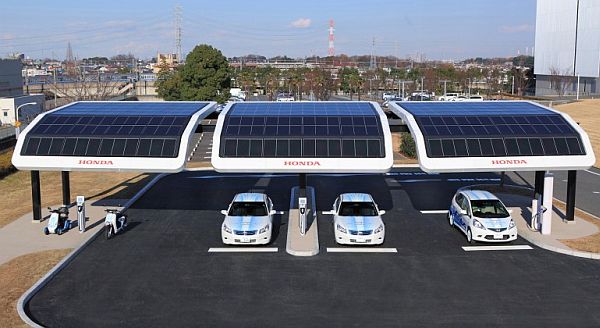 The battery powered car or electric vehicle holds promise for weaning the world away from the gasoline burning engines that cause over 2300 million tonnes of CO2 emissions per year. General Motors' Chevrolet Volt and the Nissan Leaf electric cars have made impressive debuts increasing the sales from 15,000 to 20,000 units in their first year and these companies are planning to increase the output to 50,000 cars in 2012. Other EV manufacturers are also on the scene and the hybrids such as the Toyota Prius already hold an impressive niche. This would drive the utilities to dot the highways and city roads with battery charging stations, much like we see gasoline pumps all around.
Several companies have proposed solar powered battery charging stations that could help to avoid dependence on utility power for EV charging. Besides addressing the EV recharge issue, the deployment of these solar charging stations would foster wider adoption of photovoltaics, it would reduce cost and improve efficiency.
E-Move Charging Station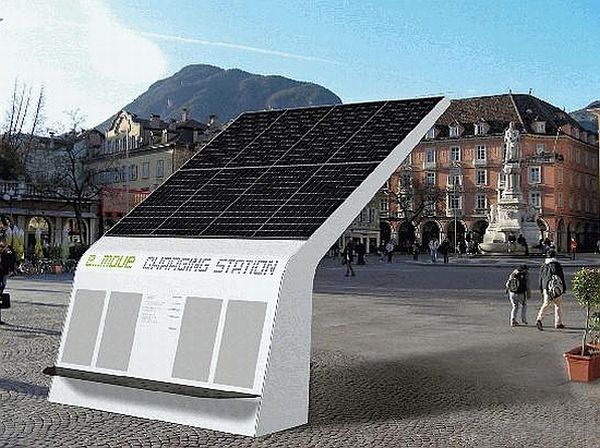 This eye catching structure, developed by Michael Scherer for the entrepreneur Valentin Runggaldier is designed to recharge not just EVs, but also electric scooters, power bicycles, and even laptops and mobile phones. The structure made of IPE beams is designed for maximum solar power generation from the eight mono crystalline photovoltaic panels mounted on it. The PV panels generate 1.76KWp of power which translates to over 2000KWh of power per year. The base contains the power inverters, switchboards, and the transaction electronics panels. The structure is grouted to the ground on cement plinths and ecofriendly design and materials are used. The user pays for the power through a credit card or through a cell phone. The mobile phones and laptops are charged outside on a bench-like platform and is free of charge to popularize the concept of solar energy. In the night, the charging station becomes a luminous urban structure. Based on experience from the first installation, Valentin Runggaldier hopes to sell this charging station all over Europe to car rental companies, municipal authorities, and even to corporate car parks of companies that wish to encourage the use of EV cars.
Sun Pods solar powered EV charging station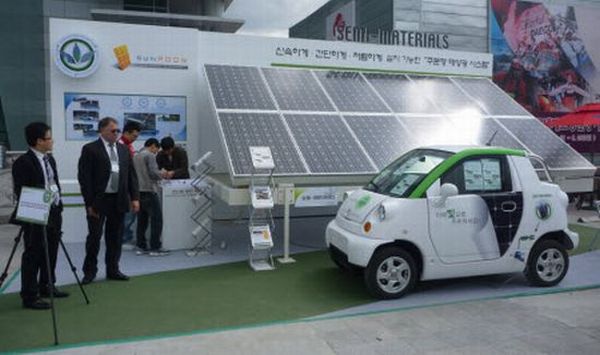 .Sun Pods Inc., of San Jose, California has announced the first factory built solar charging station that can be installed and commissioned in a matter of hours instead of weeks. It is made up of 12 solar panels mounted on a galvanized steel frame that can produce 2.4 kilowatts of power. The panels are self contained with the wiring and electronics and is easy to interconnect. The structure is self standing (or can be anchored to a wall) and does not need site preparation and construction work usually associated with a solar charging station. The solar charging station measures 20 feet wide and 10 feet high, and weighs about 3000 pounds. It can be delivered on site on a single truck trailer.
Priced at about $14,000 for the PV panels and an additional $3000 for the vehicle charger, Sun Pods is targeting fleet operators like municipal or postal authorities besides owners of parking lots, at shopping malls and so on. An additional target market is for applications like golf carts, fork lift trucks, and such materials handling equipment besides places like airports, rail, and marine stations. The company hopes to sell 5000 stations a year.
Yana Solar charging station for EVs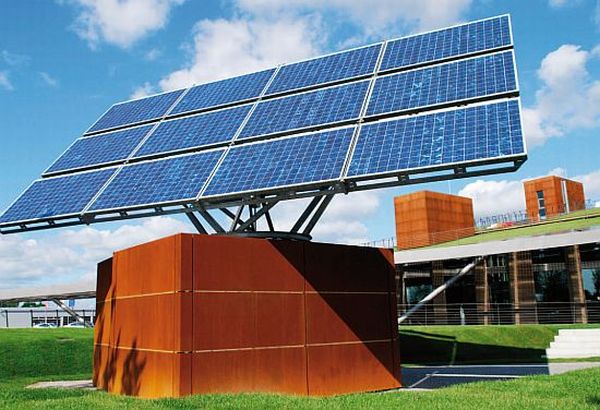 Younicos AG of Berlin, Germany has designed this solar charging station with some innovative ideas. The 12 module solar array is mounted on a tracking stand that tracks the sun to harvest some 40 percent more solar energy than fixed solar arrays. The 10 KW generator is stored in a Vanadium Redox flow 100KWh battery so that the solar energy is available even at the night and on cloudy days. The Yana docking station, as it is called, can charge up to 8 vehicles at a time through intelligent connectors. The connectors are provided with a GSM based communications link to an external agency that bills the customer. The Yana has also been designed with illuminated advertising panels to generate additional revenue for the installer.
Romag PowerPark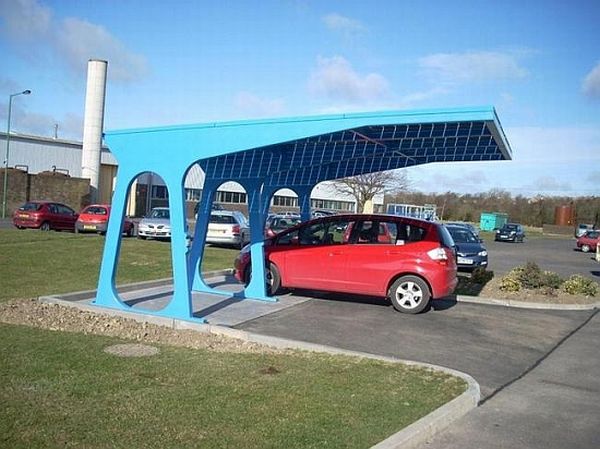 Romag the Durham, UK based manufacturer of photovoltaic glass panels has developed this carport that houses PV panels on the roof to recharge an EV parked below. Since cars are parked for a long time at home or workplaces or even on errands like shopping or entertainment, the ability to "top-up" the charge when parked would be a good added advantage to the wider adoption of EVs. The Romag carport is less elaborate than the one by Envision that is partnering GM to install charging carports in the US.
Honda's solar powered EV charging station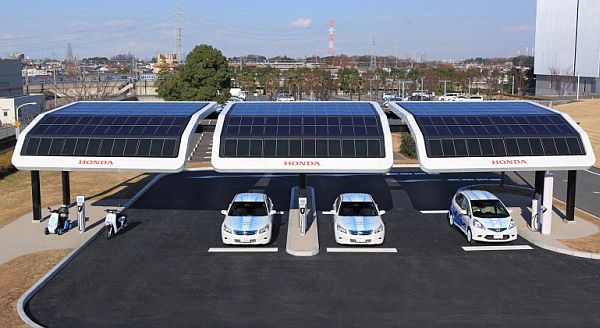 Honda has been testing solar-powered public EV charging stations and has conducted a range of test on electric vehicles in real-world urban transportation environments. These solar powered charging stations can not only charge electric vehicles, but can also be used to recharge electric scooters.
Beautiful Earth Group's solar-powered EV charging station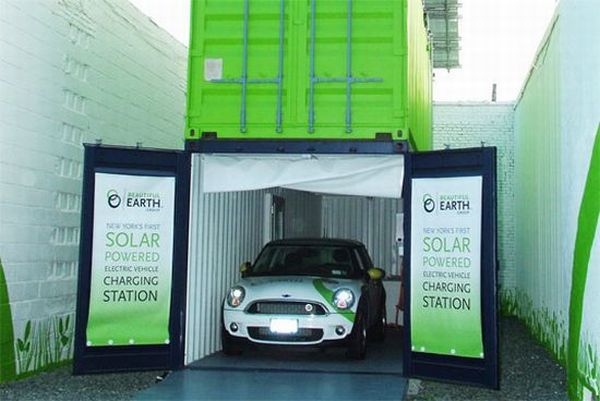 The Beautiful Earth Group of Brooklyn, New York that gifted the solar charging station to the Brooklyn Bridge park had first installed it in an industrial lot in Red Hook, Brooklyn. To illustrate the modular concept of its design, the company used standard components, PV panels from Sharp, recyclable batteries from Trojan Batteries, inverter from Outback Systems of Washington, mounted on a rack from Unirack, New Mexico and the whole structure on recycled shipping containers. The solar charging station demonstrated that it could charge an EV like the BMW mini E in 3 hours and it can travel a distance of 100 mile. The BE group also demonstrated that the charging station could be dismantled from one location and reassembled at another location to establish a portable charging station.
Geotectura 's Green Gasoline Station offers solar- powered EV charging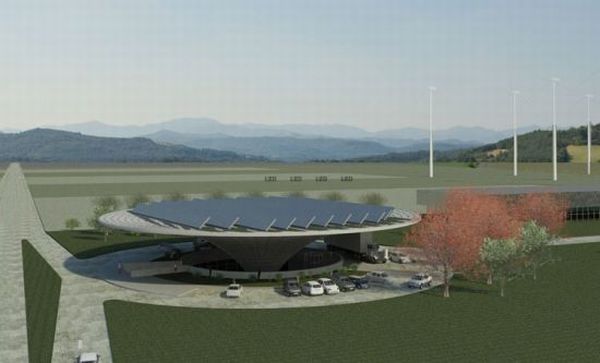 With the expected wider adoption of EVs in the coming years, there would be need for roadside battery recharge stations like the gasoline stations that we see all around. The Israel based architectural studio Geotectura in cooperation with Malka Architects has conceptualized this "Green Gasoline Station" that would harvest solar energy from roof mounted panels and charge vehicles at recharge poles, under its beautiful canopy structure that is open on all sides. In areas with sufficient wind velocities, there could also be wind turbines located on the roof. The service area and a cafe are located underground.
Toyota Industries' solar-powered EV charging station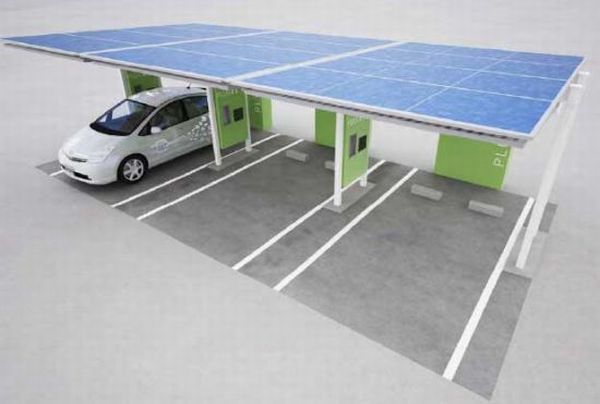 To encourage employees to shift to EVs, many corporates are installing EV charge stations. This installation is in Toyota city in Japan, which houses the car manufacturing plant as well as housing for many of its employees. Each solar charging station produces 1.9 kW of power which is stored in a 8.4 kWh battery pack. The station is additionally connected to the grid to provide for days of low solar generation.
General Electric solar-powered charging station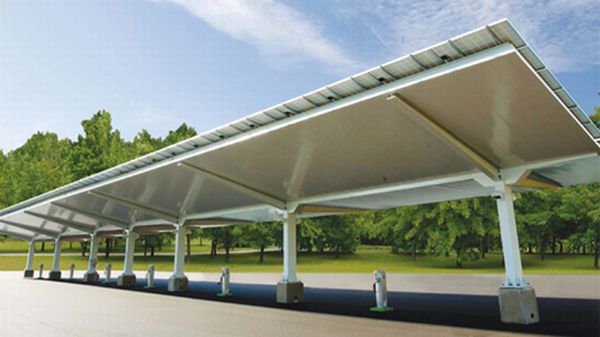 GE Industrial Solutions unveiled this first carport at its Plainville, Connecticut facility with solar photovoltaic panels on the roof feeding power to the EV chargers on the ground. This design will be extended to cover a 500 space car park that will eventually generate 1.6 MW of power. The solar car park will be connected to the grid to export power on sunny days and to import power on other days.
Mitsubishi Electric and Mitsubishi Motors' solar powered EV charging station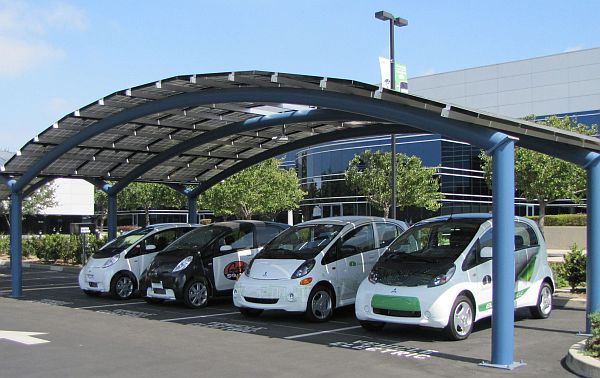 Mitsubishi Motors North America in partnership with Mitsubishi Electric has unveiled this EV charge station at its Cypress, California headquarters as a demonstration of what their dealers will have to install for the launch of Mitusubishi's Electric Vehicles in November 2011. The twin arch design by the company California Green Designs supports 96 high efficiency PV panels each of 175 watts, made by Mitsubishi Electric. The solar power is fed to three types of charging stations developed by the Eaton Corporation. The Level 1 charger delivers full battery charge for a new vehicle in 22 hours, the level 2 charger provides a 6 hour recharge and the level 3 charger a quick 25 minute top-up to 80 percent of battery capacity.