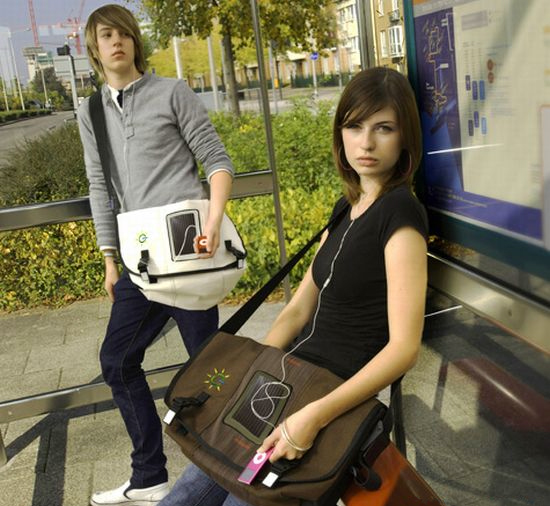 While out for a camping trip what bothers most is the unavailability of power sockets which our gadgets need after a few hours of use. The market seems to be countering the problem with clean energy chargers that can be used anywhere. For those who often forget to carry chargers in their bags, designers are coming up with cool bags that double as renewable energy chargers. Here is a list of 10 such bags that can keep your gadgets juiced up at any place where there is ample sunlight.
Infinit Solar Bag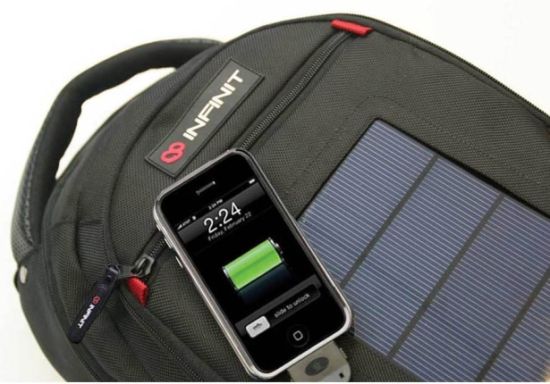 Featuring a 2000mAh battery and a 2.4W solar panel, this sustainable backpack from Infinitwill be able to charge with natural light and comes with nine different adapters for your gadgetry needs. The bag ships with connectors for mobile phones and mini-USB connectors for GPS devices.
Neuber's Energy Sun-Bags: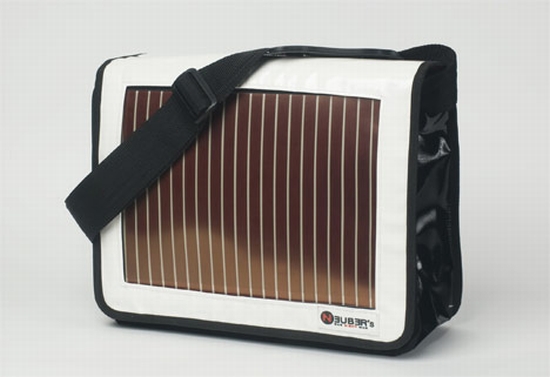 The Neuber Energy Sun Bag weighs just 500gm and includes a 1.4W solar panel supplied by Konarka Technologies. The bag can charge almost all devices that need about 5V, including cellphones, MP3 players and cameras.
Eclipse Solar Gear Bag: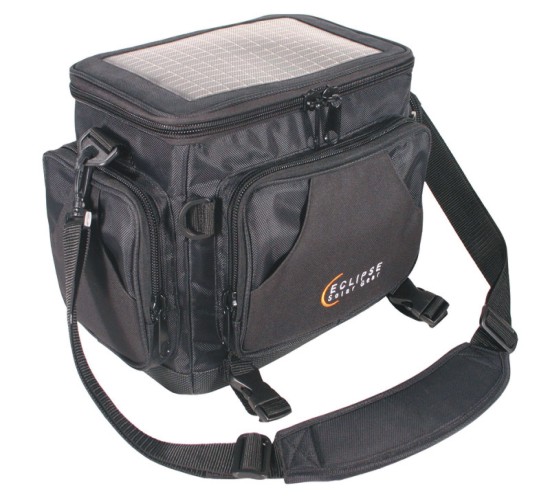 This camera bag from Eclipse Solar is ideal for any photography enthusiast. The bag abodes a lightweight flexible solar charging module that can be connected using the existing 12V auto adapter, and the adjustable customizable foam protects the items inside at all times. Managing an output of 1.5W, this bag can charge mobile phones and MP3 players as well.
Solestrom Solar Bag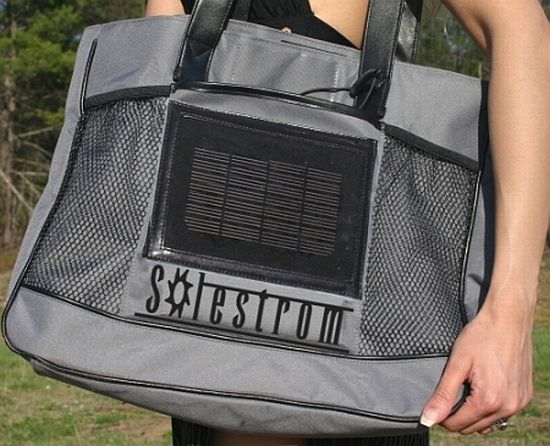 This bag from popular swimwear brand, Solestrom, uses a water resistant solar panel with a rated output of 1.5W. The solar panel charges a 3.6V/1200mAh Ni-MH battery and comes with 6 standard adapters for common cellphones and USB for your iPod and other USB charging devices.
Voltaic Systems' Solar Bag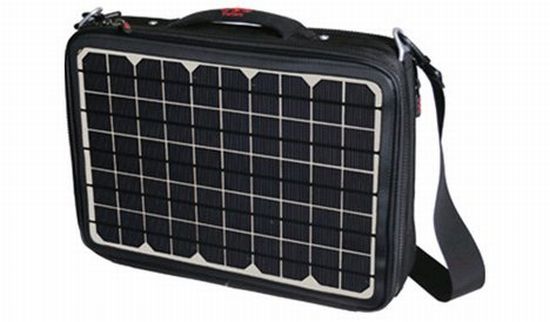 This solar powered generator bag uses a single solar panel to produce 14.7W of renewable electric power. The panel charges an internally located battery and can charge portable electronic devices such as iPods and cellphones simultaneously.
Sakku's Buddy Solar Bag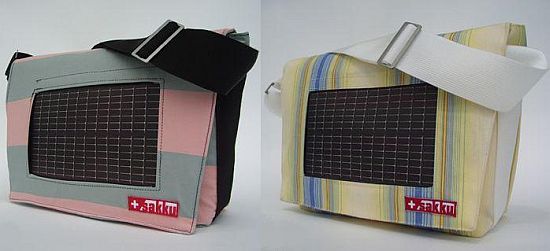 Crafted in rainbow colors, the Sakku Buddy Solar Bag has been made entirely from recycled materials. To better its eco-friendly credentials, this bag includes a 2.5W solar panel. The bag has been made available in two variants – the "direct," which charges portable devices directly from the flexible solar panel and the "akku," which comes with an integrated rechargeable battery and stores the solar energy continuously.
O-Range Portable Backpack: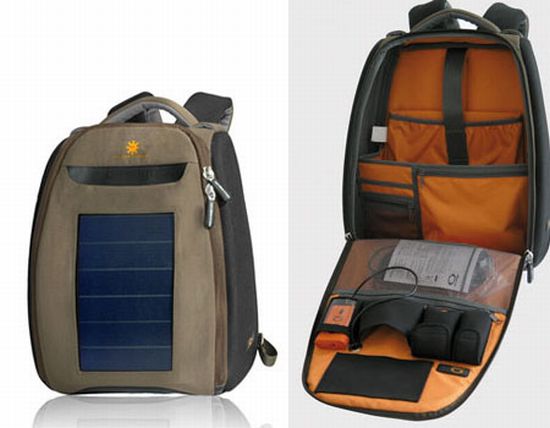 The O-Range travel bag was designed to really help out that outdoor lad who still is crazy about his modern gadgets with the eternal problem of "Low Battery." The O-Range travel bag is an ideal backpack solar charger for devices like cellphones, MP3/MP4 players, digital cameras, PDA, DVD players, GPS and that other new gadget that hit the market while I was typing this.
SunnyBag: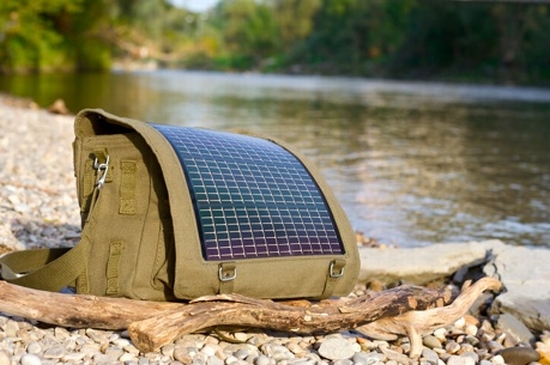 The SunnyBag features integrated solar panels with an output of 3W. The solar panel fuels an integrated 1600mAh Li-ion battery and includes connectors for more than 400 different mobile phones, including the iPhone.
Solarri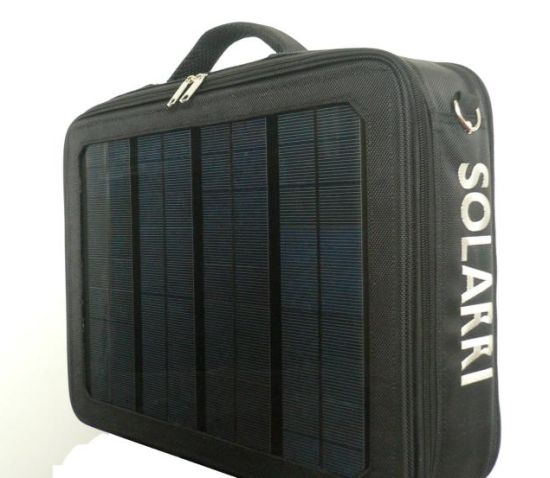 The Solarri solar bag includes a 12W solar panel that recharges a 13,200mAh battery. This bag includes compatible chargers for a wide range of cellphones, PMPs and laptops.
HSI Equipment Bags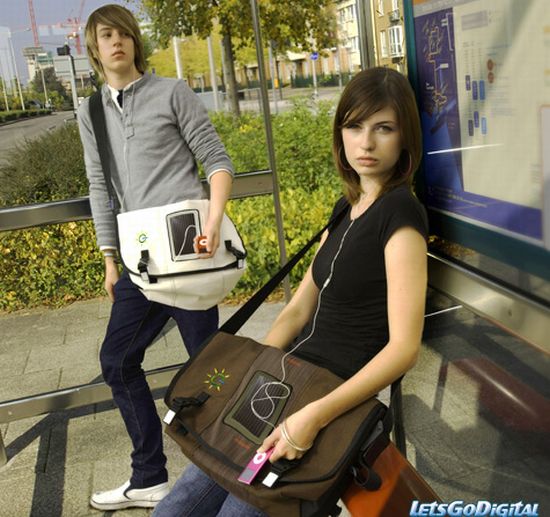 The HIS equipment bags include dye-sensitized solar cell and can power electronic devices such as mobile phones, e-books, cameras and portable LED lighting systems.